'Scorpion' Gets More Personal—and Goes to Space!—in Season 3
When it comes to saving the world, Team Scorpion can do it all. Handling matters of the heart? Well, that's where things get a bit trickier.
Season 2 of the CBS drama concluded with behavioral scientist Toby (Eddie Kaye Thomas) proposing to mechanical engineer Happy (Jadyn Wong)…only to be blindsided by the news that she's already married. And team leader Walter (Elyes Gabel) worried he could lose crush Paige (Katharine McPhee) for good, so he set out to crash her getaway with her new boyfriend, Tim (Scott Porter). The show picks up mere hours after we last saw the characters, and "Season 3 has two or three times as much personal material" as previous years, says executive producer Nicholas Wootton.
RELATED: Scorpion Counts Down to an Explosive Season Finale
Viewers will learn the identity of Happy's husband in the first quarter of the season, but the mystery man isn't really a potential suitor. "She just got caught up in this situation years ago and never fully extricated herself," executive producer Nick Santora explains. "She can't just divorce the guy and marry Toby. Too many dominoes would fall." Says Wong, "I don't think that Happy intended to get married [again] and wasn't prepared for having to disclose this. The concern [going forward] is more about how Toby's going to take it."
Thomas hopes the duo finds a way to work things out. "Falling in love is one thing; staying in love is a whole other thing," he says. "These are very stilted people. There's another level of intimacy waiting for them."
Things are equally complicated for Paige and Walter after his grand gesture backfires. "It's received less romantically than he would have hoped," McPhee says. "Paige is pretty frustrated with him and his lack of tact."
With Walter's feelings for Paige now clear, the situation showcases a new side to the previously emotionally reclusive genius,
Gabel says. "Tim has instigated a fire inside of Walter. He starts doing weird experiments and all these other things he normally doesn't engage in. We'll see Walter behaving a little bit differently."
RELATED: Scorpion Shippers Rejoice! Eddie Kaye Thomas and Jadyn Wong on What's Next for Quintis
Walter's actions are "a concern for Cabe, but he lets him go through it," Robert Patrick says of his character, the team's father figure. Cabe is also caught in the middle of the love triangle since Tim is his Homeland Security colleague. "Cabe will defend Walter. But he's also going to tell him, 'You're acting like an idiot.'"
Ultimately, the team needs to put its personal drama aside when hackers take control of the country's military planes and ships, turning the machines on each other, in the two-hour season premiere. "It's big and has a lot of action to it," Wootton teases.
The action continues in the October 10 installment, when Walter goes to space in an episode praised by the cast and producers as one of their best. "I was thrilled when I read the script," McPhee says. "It felt like this is my favorite kind of Scorpion episode: There's fantasy, romance, comedy, sexiness, emotion and the task at hand." A lack of oxygen in Walter's ship leads him to lose his grasp on reality. "We're inside Walter's heart and mind about how he feels about Paige," Santora says of the character-driven hour.
Things are decidedly more grounded for the team in most of the other cases coming up in Season 3: an investigation into the disappearance of an autistic classmate of Ralph's (Riley B. Smith); an overnight stay in a museum; a trip to Walter's hometown in Ireland; and a dive into Paige's past, complete with a visit from her mother.
Mathematician Sylvester (Ari Stidham) also makes big moves when he decides to enter a local political race after his favorite comic book store is threatened. "As Sylvester likes to say, most people vote with their pocketbooks; he votes with his comic books," Santora says with a laugh. Adds Stidham: "Sylvester has a lot more common sense than other people. Maybe a big brain can change things."
The writers are thrilled to already have so many stories in the pipeline. "We came into the [start of the] season with 10 types of stories we had never done before," Wootton says.
"There's always a new technology we can exploit. That's the magic of the show: As technology and the world evolve, we can react to it." And Team Scorpion will be there to save the day.
Scorpion, Season Premiere, Monday, October 3, 9/8c, CBS (moves to 10/9c on October 10).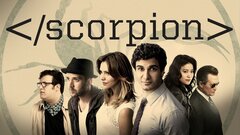 Powered by