'Scorpion': Cabe Finds His Romantic Match
Sparks fly on Monday night's episode of Scorpion when Cabe (Robert Patrick) meets campaign manager Allie Jones (Reiko Aylesworth). The big problem? Cabe's pal Sylvester (Ari Stidham) is running for city alderman against Allie's candidate.
The typically unflappable Cabe is rattled by his connection to Allie. "You have two very grounded and capable professionals who are knocked sideways by their attraction to each other," Aylesworth says. "You'll be laughing, cringing and rooting for us at the same time. This has to be one of the most fun things to play, especially when your fellow actor is so game."
RELATED: The Scorpion Cast Previews'Plight at the Museum'
Allie could be a real contender for Cabe's closed heart. "She's strong, smart and quick-witted," says Aylesworth, who will recur throughout the season. "She's a competent person who is trying to do something she's completely incompetent at—flirt." Can the duo make it work when their campaign loyalties vary so greatly? "I can't wait to find out," Aylesworth admits. "Right now, the conflict is just trying to talk to each other without getting tongue-tied."
Scorpion, Monday, Nov. 21, 10/9c, CBS.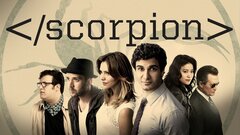 Powered by