Alan Thicke, Star of TV's 'Growing Pains', Dead at 69
Alan Thicke, 69, has passed away from a heart attack.
The Canadian-born actor, best known for playing patriarch Jason Seaver on the ABC sitcom Growing Pains (1985-1992) and who recently appeared in the second season of Netflix's Fuller House, died Tuesday after he was playing hockey with his son, Carter, 19.
According to a TMZ report, Thicke and Carter were on the ice today around 11am when Thicke began having chest pains, nausea and vomited. An ambulance picked the actor up at 11:30am and he was taken to Providence St. Joseph's Medical Center in Burbank, where he was pronounced dead. An organ donation company was also reportedly contacted so some of Thicke's organs could be donated.
Thicke is survived by his wife, Tanya, and three sons, Robin, Brennan and Carter. Besides his acting work, he was a frequent game show and talk show host and wrote several TV theme songs including Diff'rent Strokes, The Facts of Life and the original theme for Wheel of Fortune.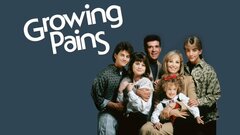 Powered by