Ask Matt: 'Dead' Tired, 'Celebrity Jeopardy!' & a Changing CW
Welcome to the Q&A with TV critic — also known to some TV fans as their "TV therapist" — Matt Roush, who'll try to address whatever you love, loathe, are confused or frustrated or thrilled by in today's vast TV landscape. (We know background music is too loud, but there's always closed-captioning.)
One caution: This is a spoiler-free zone, so we won't be addressing upcoming storylines here unless it's already common knowledge. Please send your questions and comments to [email protected] and follow me on Twitter (@TVGMMattRoush). Look for Ask Matt columns on many Tuesdays and some Fridays.
Walking Into Oblivion?
Comment: The Walking Dead used to be fantastic. Fear the Walking Dead managed to (in my opinion) top it with its first three seasons. We all know Fear died a fast death with Madison, and try as they might, there's no reviving it. I'm not even sure where the original died. I guess that one was a slow death. I made it through the first season of World Beyond, but that was a chore. The second season didn't get a glance. Tales of the Walking Dead was supposed to be stories of characters that have crossed paths with the two main shows. Instead, we got some sort of supernatural show with zombies in the background. Why are they still making new shows? Are the ratings high enough that they're making money on these shows? I mean, with the exception of three episodes, I fast-forwarded through every episode, basically watching the introduction and the conclusion, and didn't feel like I'd missed anything. It's just a shame that the people in charge don't know how to let go. TWD and Fear could have had great legacies if they'd stopped when they should have. Now the WD universe is just a joke. — Mark
Matt Roush: While there's still a solid (though far from its peak) fan base for this once-upon-a-time riveting horror franchise, I tend to agree that The Walking Dead is a classic example of a network milking a successful premise to death, and it's not over yet. Raise your hands if you're truly excited about the idea of Maggie heading to New York for a spinoff alongside Negan, the former villain who once bashed in her beloved Glenn's head? (I don't follow the comics, but watching Negan go from ultra-villain to anti-hero was one of the factors most responsible for keeping me from being a cheerleader anymore, regardless of Jeffrey Dean Morgan's innate charisma.) I'd be curious if the miraculous return of Madison to the ever-evolving Fear will bring former fans back into that fold, but I bowed out even before the nuclear-winter season, watching only grudgingly.
I will admit to being more of a champion of this summer's Tales anthology. I never expected it to intersect with the ongoing shows — which means the impressive Alpha backstory was a surprise for me, not unwelcome — and I generally liked how the episodes found different tones and approaches to spin stories within the zombie apocalypse, Twilight Zone-style. (The Anthony Edwards episode about the scientist dispassionately studying the "homo mortis" species remains my favorite.)
Celebrity Goofs for $300!
Question: What did you think of the new format for Celebrity Jeopardy? Even though some of the Jeopardy round clues were at an easier level than normal, I appreciated that it still felt like Jeopardy! and that they weren't dumbing things down too much for the celebrities. The addition of the Triple Jeopardy round was interesting and mostly seemed to work. I also liked that they showed the discussion between the contestants and Mayim Bialik at the end of the game, which we don't get to hear in the syndicated version unless they put it on the website. However, in other areas it felt really obvious that they were padding the show to get to an hour, including the repetitive Johnny Gilbert bumpers of reading a particularly long clue going into each commercial break. And while I'm all for celebrities playing for charity, a minimum guarantee of $30,000 to each charity seems to impact gameplay and lower the stakes a bit. Your thoughts? — Jake
Matt Roush: Seems to me that this version of Celebrity Jeopardy! is not designed for those who take the show terribly seriously. (If you can't loosen up like the celebs are doing, it will only get on your nerves, and why let it?) From the first two episodes, this feels much more like entertainment built loosely around gameplay, and I appreciate the way this exposes how truly nerve-wracking it can be to even play the game. Unlike most everyday contestants for whom this experience is a long-anticipated peak moment, the celebs are looser, more about having a good time, and unafraid even to play the fool. (I'm still smiling about the surprise ending of the first episode, where the insecure winner nearly collapsed at the thought of having to return for the semi-finals.)
I can only imagine how purists cringed as Week 2's Iliza Shlesinger fumbled to make an appropriate bid at each Daily Double, though her gameplay was generally excellent. But watching them make jokes about former champion Austin Rogers as he read clues in a bartending category cracked me up every time. Going forward, I'll be watching the daily show for the joy of the game and turning in to Celebrity Jeopardy! for the fun.
End of a CW Era
Comment: Why I'll No Longer C-W: So Nexstar, the largest owner of individual over-the-air TV stations in the country, now officially owns The CW. And in their first act, they've pledged to start immediately cutting costs, airing more reality shows and fewer scripted programs. Look, I get that making money on non-cable and non-streaming services is tough these days, but to me, reality programming is truly the bottom of the broadcast barrel. Most of it is pre-determined, hard to watch, uncreative, anything but reality, and like a proverbial TV rabbit, it tends to reproduce itself endlessly until there are so many of them, you can't get rid of them. How many shows about people cooking, rebuilding a house or dating each other can the American public watch? So if this is what's next from Nexstar, I'll be saying see you CW. There's little enough to watch on broadcast TV. Now there's going to be even less. Like another of their shows that's about to disappear from the network when this happens, I'll be gone in a Flash. — Aaron F
Matt Roush: I had to keep your e-mail header with its "see/CW" pun, which set the tone for your heartfelt yet cleverly written response to The CW's uncertain future. With CEO Mark Pedowitz now officially gone, Nexstar's takeover will be interesting to watch, though no doubt dismaying to current CW fans, because of what it may indicate about the future of broadcast TV in general, given how so much of today's more ambitious (and costly) programming is being ceded to premium and streaming platforms. I can't say I was thrilled when The CW basically became a pipeline for endless derivative DC projects and warped IP like a supernatural Nancy Drew, but I'll forever be grateful for the time when Jane the Virgin and Crazy Ex-Girlfriend reminded us of the network's roots in the more diversified WB (a network I still miss). Watching what The CW will become may not be pretty, but for those taking the historical long view, it holds some fascination.
Resident Alien: Out of This World
Comment: I enjoy Syfy's Resident Allen so much and can't wait for Season 3. One of the things that really got my attention was the "shout-out" to other sci-fi stars: Nathan Filion from Firefly as the voice of the octopus, George Takei from Star Trek as the voice of one of the grays, and Georgio Tsolakis from Ancient Aliens as a prisoner in the government prison-break episode. Just curious if I missed anyone? I sure hope Alan Tudyk gets recognized at next year's Emmys. Thanks for keeping us informed. — Cathy
Matt Roush: I'm with you, though I now realize my advocacy for Alan Tudyk to get a comedy-acting nomination is the Emmy equivalent of Charlie Brown trying to kick the football Lucy is holding. It's probably not going to happen if it hasn't already. That said, while I sometimes wish the writing were tighter (and could drop a few of the human subplots in and around Patience), Resident Alien is too delightful to nitpick. As for the shout-outs, I'd add Linda Hamilton (Terminator, Beauty and the Beast) as the General, Terry O'Quinn (Lost) as the alien tracker, Enver Gjokaj (Dollhouse, Agents of S.H.I.E.L.D.) as the alien assassin and even Michael Cassidy (People of Earth, Smallville) as the poor doctor who was mistaken as an alien.
Question: The Alien Baby on Resident Alien is absolutely adorable (excluding its dining preferences) and I'd like to get some Alien Baby-specific merchandise. Not having any luck finding any. Thoughts? Suggestions? — Juls in Columbus, Ohio
Matt Roush: Yes, why should Baby Yoda have the marketplace to itself? I've put this question to the good folks at NBCUniversal, and if I hear about any marketing efforts on behalf of Harry's voracious mini-me, I'll pass it on.
Time-Shift Headaches
Question: Curious to check out Ghosts in its second season, I watched it live and then decided to check my DVR recording. I was surprised to find that the recording didn't include the first minute or two, which had been a "previously on." Instead, the end of the recording was the first minute or so of So Help Me Todd. I know that network scheduling sometimes messes with DVRs because the network lets the show run into the next hour to avoid channel changing, but it has usually been the end of a show that cuts off. This is the first time I've actually seen the beginning of the show get looped off of the recording. Do you know if CBS does this every week? If so, I'll have to extend the recording on my DVR to cover a couple of minutes of Young Sheldon. — JL
Matt Roush: Couldn't hurt. It is one of the aggravations of our time that the networks can't or won't do a better job of syncing the beginning and ending of their shows with DVR systems when they let their series run into the next time period.
And Finally …
Question: I miss The Carbonaro Effect, which used to be on TruTV and has been gone for at least a year. Michael Carbonaro's magic tricks were amazing. I fear your answer will be Michael is now on some streaming channel, and so far, I don't stream. Impractical Jokers used to split the time with Michael, but they are now on all the time and I've never cared for them. — Jim L
Matt Roush: I also liked that show and enjoyed his playful illusions, but according to the network, The Carbonaro Effect is no longer on the active roster. (As you feared, the best way to watch past episodes is on streaming, with all five seasons available on HBO Max.) On the positive side, Michael is currently on a U.S. tour, with dates scheduled through December. Check out his website to see if he's performing near you.
That's all for now. We can't do this without your participation, so please keep sending questions and comments about TV to [email protected] or shoot me a line on Twitter @TVGMMattRoush. (Please include a first name with your question.)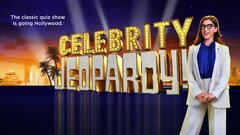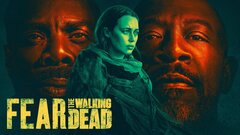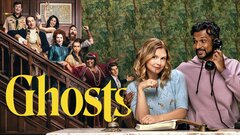 Ghosts
where to stream