'Pitch' Boss on Season 1's Cliffhanger and a Possible Season 2
Ginny Baker (Kylie Bunbury) faced her biggest challenge yet in the Pitch Season 1 finale: in the middle of a no-hit bid—and on the verge of being shut down for the season because she reached her pitch limit—the rookie injured herself while fielding a bunt attempt.
The hour ended with Ginny being tested to see the extent of her injury; her season was done, but the fallout could just be starting. The Fox drama is in a similarly uncertain spot: despite critical acclaim, the show has struggled on Thursdays and its fate is up in the air.
We spoke with Pitch executive producer Kevin Falls about that cliffhanger, a potential Season 2 and more.
What has the reaction been to the finale's cliffhanger?
The response was great. We wanted to set Ginny back again, because we couldn't do the same story next season about her being the first woman in this major league sport. Although, we still will tackle those things, we wanted to add something else.
What discussions were had about Ginny getting injured during a fielding play versus while pitching?
Major League Baseball, understandably, didn't want a pitching injury. I don't think they wanted to say, "Here's the first female Major League Baseball player and she gets hurt pitching." We didn't want to send a message that because you're a woman, your body wouldn't hold up, either. But we did want her to face something having to do with her arm.
RELATED: Pitch Season Finale: Kylie Bunbury Previews Ginny's Big Decision
This was based on an injury of Gregg Olson, who played for the Baltimore Orioles. He was fielding a bunt and he was throwing side-armed and he tweaked something in his elbow. He was able to overcome it and came back and pitched the next year. We didn't want Tommy John surgery [for her]; we want Ginny Baker to play baseball next year. We just wanted to make sure we didn't give her too much arm damage where she couldn't come back next season.
Ginny was allowed to struggle on the field, and the writers didn't immediately jump to giving the team a championship, etc. Was there any pushback from the network/studio about allowing a natural growth process?
I came on after the pilot was written, and I know that there were discussions about [that]. I think [co-creators] Rick [Singer] and Dan [Fogelman] did a great job of writing that meltdown in the first game, and she had to come back in the second. You may have seen her getting roughed up like any baseball player would.
RELATED: Pitch Producer, Star on the Ginny Twist
It can't be easy; you have to have drama and conflict. With Ginny, she's not coming up as the pitcher like [the Dodgers'] Clayton Kershaw or [the Giants'] Madison Bumgarner, where there's so much fanfare and this person is going to be an ace. Ginny was a rookie that's just trying to hang on to the team. That's a hard journey. But what none of those guys faced was the celebrity she brought to her dilemma of trying to make it.
Not to mention her celebrity didn't match her level of talent. She was the best woman to ever play pitching baseball, but among men, she was a middle of the pack pitcher. She felt that attention was inordinate, which was her own internal obstacle.
Ginny fired her agent, Amelia (Ali Larter)—and Amelia still opted to get on a plane after she saw Ginny was injured. What do you anticipate that relationship looking like in Season 2?
It's something we're going to wrestle with as we decide what to do with all of our characters. I think the idea was we might be reinventing Amelia. Most baseball players don't have an agent hanging around and doing those things. Doing that, especially now that she has her sea legs, would have been something that might not have been [appropriate].
How she comes back, and we have several [ideas] I don't want to share now, would be rebooting what she's doing. She'd be doing the same [kind] of thing, and coming back to help her—or maybe Ginny going to Amelia and saying I need you. We have to keep it fresh. We have to think about the long haul.
We really love Ali, but that's a difficult role. You don't want her to be the bitch on wheels; you don't want her to be one-dimensional, and she wasn't. That last scene, she was tough, but you felt for her as she was basically getting fired. That was not one of Ginny's better moments; she's under a lot of pressure doing what she does. With her brother and being furious at him—not to mention, she was getting shut down [for the season]—I think if she had more time to think about it, she probably would have handled things better.
Evelyn (Meagan Holder) and Blip (Mo McRae) had a pretty serious fight in the finale. Is this the beginning of something more seriously wrong for them, or is it more beneficial to the show if they're an overall solid couple?
I think—and this is just me speaking; we haven't sat in the [potential Season 2 writers'] room—but the marriage was so [solid]. In the All-Star Game, she was a little upset because he was upset at her for not being happy for him, and she was saying, "I've been around for ten years while I put my professional life on hold." So there was some friction and tension there.
But for the most part, they're a great marriage. It's a great ingredient to have in the show when everything else sometimes can be [unpredictable]; we have this strong marriage at the center. But let's face it, most marriages are going to have their time when they go through white water. It wouldn't be real if it was all hunky dory the whole way. This is a test for their marriage, but I have no desire to break them up. I'm certain they'll work things out.
Mike (Mark-Paul Gosselaar) and Ginny got close, but acknowledged they can't be more than teammates. Is that a storyline you're looking to put on pause in the immediate future?
I think, initially, I would want them to be more mentor/mentee. They are teammates. She is no longer a rookie. I think Mike and Ginny will have their own personal turbulence with [other] relationships: Tyler [Hilton's Noah]'s a billionaire and he has his own life and temptations and outside interest. There's an interest in whether Mike and Rachel can make it work. All of these things could be playing out, and maybe Ginny and Mike could confide in one another.
RELATED: Pitch: Kylie Bunbury on Ginny and Mike's Big Moment
There's always going to be this chemistry those two will have. Let's face it, even when they showed their hands with their feelings for one another, it wasn't consummated. The technical discussions we had about the near-miss of the kiss often got full-throated. This was all inspired by the movie Almost Famous: the plane is crashing and one of the band members admits he's gay and he just wants to come clean, and then the plane straightens out and lands. We wanted a version of that. We wanted to get this perfect storm of a window where you think Mike is leaving, coupled with some issues that he's having with Ginny, he's traded but he's not traded and they've had a couple of drinks and it's goodbye time and a hug turns into [that]. It was never going to happen anywhere else [at this time]. They didn't kiss, but they showed their hand. [At some point] that stuff will come to the fore and they'll start talking about it again. Everybody, for the most part, feels like it's a better show [now] if they haven't crossed that line.
Teams rarely stay completely intact between seasons. What opportunity does that allow the writers?
If we're so fortunate to get a Season 2, we're talking about starting five months later. The idea of spring training, that first day when the pitchers and catchers report [things could be very different]. I like the idea of arriving and you don't know who is going to show up. You can shake the snow globe and reboot the show. That's the thing we'll explore. We're all Fogelman disciples, and we know the kind of storytelling he likes, the kind of great storytelling he does on [his other series] This is Us. We like the twists and the reveals, and if we can do it a smart way, I imagine however we're reintroducing those characters, it won't be the way you expect to see them again.
RELATED: Pitch's Mark-Paul Gosselaar on Getting Insight into Mike's Past
Now that you've finished Season 1, what were the big lessons you learned?
It's a very difficult series to produce because of the baseball and the stadiums. In the season, we had to work around Petco's schedule [for the Padres] and we shot in [the Giants'] AT&T [Park] and Dodgers Stadium. When you go to these stadiums, especially when you go to Petco, we shoot scenes for five different episodes. And so we have to really be smart, because it's really expensive to shoot in a stadium. We had to figure out a way to emulate what broadcast cameras do on our cameras. Then we have the effects of all those shots when we shoot in a nearly empty stadium.
Not to mention all the stuff we have to do when we shoot the suites: you see the action on the field, but then all the reactions in the stadium suites is shot at Paramount [in Los Angeles].
I did Minority Report the year before, and that was a show set 50 years in the future…I thought that was the hardest thing I'd ever do. The line producer [on Pitch was] on Minority Report with me—he said this was even harder because of having to juggle the stadiums.
I think you'd probably see less baseball [in Season 2]. But we need baseball, because they work in it. It was a learning curve, because no one has ever done a show like this. There have been movies, certainly, but to do this week-to-week—and almost every episode there was some baseball—is an extraordinary testament to the cast, crew and Major League Baseball.
What are your feelings about a Season 2 renewal?
I think if we [just] had this number, I would be very pessimistic. But what we have going for us is a studio and network that love the show. A cast and the type of show that has never been done before. I think that can be a negative. I was really glad to see [the finale] had an uptick.
Word of mouth [is there]; every day on Twitter, I read something about someone who is just starting to watch it. That's the great thing about television in this day and age that you couldn't do 10, 15 years ago.
RELATED: 4 Reasons We Love Pitch
Fans are going to have to be proactive: whether it's binging it or getting other people to watch it. This is one where I think we're going to really need some help. We have the good will of the studio and the network, but at the end of the day, it's a business.
Some people rushed to judgement that it was just a sports show. I think some sports fans may have thought this would never happen or it was going to be cheesy and she was going to win every week. I don't think they realized how unique the show was, how great the cast was. I think there was some preconceptions of the show. The ones who ended up watching realized how great it was and they're the ones who are most upset it may not come back.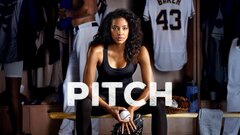 Pitch
where to stream
Powered by