'Pitch': Mark-Paul Gosselaar Previews Insight Into Mike's Past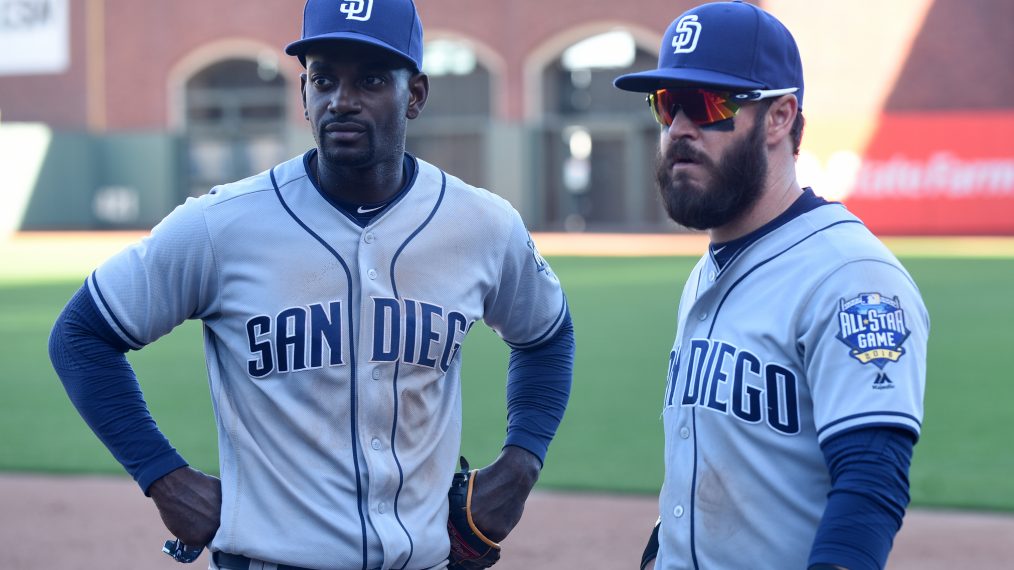 Pitch is exploring Mike's (Mark-Paul Gosselaar) history in the flashbacks showcased in this week's episode. The look to Mike's past comes at an especially crucial time for him in the present—his team, the San Diego Padres, is setting the groundwork for his (eventual) replacement catcher.
Though the transition wouldn't be permanent immediately, the team does test out Mike in other positions. And it comes after the league's trading deadline…and just a few months after they brought up Ginny (Kylie Bunbury), baseball's first female major league player. We spoke with Gosselaar about diving into Mike's past (and career future) and getting feedback from real MLB players.
What will viewers learn about Mike in this episode?
They'll learn about his childhood and how he became a catcher; His relationship with his mother and his estranged father. Somebody asked, "Will people finally understand Mike?" and no, I don't think flashbacks are meant to fill in the blanks for people wondering why this particular character is the way they are. I think the writers did such an amazing job of developing these characters, that when we go back to a flashback, it's more of an added track. It's like a DVD bonus. You fall in love with these characters and you follow them on these journeys and then you follow them on a flashback. And it's like, oh, look at that, it's an amazing added feature to the movie.
Had you previously known what's revealed in the episode? Or did you find out about Mike's past when you read the script?
It was a huge surprise. I remember [executive producer] Kevin [Falls] at one point at the TCAs [the Television Critics Association press tour in August]…said "the actors are like mushrooms; we keep them in the dark." I found humor in that comment. That's how I feel we are. We get the scripts. I don't know if it's laziness or just content [with what they're giving us], but I don't really go to the writers or Kevin or [executive producer] Dan [Fogelman] and see what they have in store for us; the arcs our characters are going to make. I think one of the things I've ever asked is are Ginny and Mike ever going to get romantic. But other than that, learning about Mike's history was a surprise.
Did they actually give you an answer to your Ginny-Mike question?
No, not entirely. We're going to continue going down the road we're going down. I take that as they're going to have this great friendship and this great mentorship that Mike has with her. And that it would probably go further if they were in different situations. But in their current circumstance, they can't be romantically involved.
RELATED: Pitch Imagines the First Female Major League Ballplayer
The show has also gone on location several times to film in real ballparks. How was it shooting in the San Francisco Giants' AT&T Park for this episode?
It was great. It was amazing. I'm such a fan of the Giants, the Dodgers—any time we get to go to a different stadium, it's such a treat for us. Just walking on the field…this is where Buster Posey plays. Madison Bumgarner [pitches]. All the history that has gone on there and the playoff game had just happened right before we started filming there. Such a treat. We got to meet the owner, Larry [Baer], who treated us so well. This is the dream job for a lot of us.
You've also gotten positive feedback from real baseball players, including veteran catcher A.J. Ellis. What has that meant to you?
It's kind of hard to explain, but once somebody gives you a compliment—especially a real major league catcher—there's a weight that comes off your shoulders. When Mo [McRae (Blip)] and myself and Kylie came on to this project, one of the big things Major League Baseball wanted was that we look as authentic as possible. If we couldn't, they were going to bring in doubles every episode. We had doubles ready for us in the pilot. We had doubles for almost every episode that we go and shoot. And aside from the pilot where there were a few shots of doubles being used, there has not been a double used since then. Which is testament to how much hard work Mo and Kylie and I put into this show. But that's what we do: we live, eat, breathe baseball all day long. So that when a real major league player reaches out to you and says I respect what you're doing on the show, and I can relate to what you're doing on the show—[Ellis] and I texted after that—it means a lot. I'm doing it right in a way. I don't think I'm perfect, and there are certain things I watch on the show and I'm like, "I could have done that better." I'm getting better every week and every month. Mo and I wish we had documented where we were in February of this year to where we are now. It's almost a comedy to a drama, how much improvement we've made. And we'll only get better for next year.
As Mike's future career is up in the air, do you think he could be content playing baseball and not being a catcher? Or is that an important element to him?
The catcher is the on-field coach. Being the catcher and the captain of the team, that's a position he excels at, thrives at, and yearns for. Selfishly for me, I hope he always stays the catcher because I enjoy playing that position. I think he'll be the [Chicago Cubs'] David Ross—David Ross is 39, just retired this year. Mike has a few more years ahead of him to play the catcher. I think, also, it'll be the thing where if they need Mike's bat, they'll put him at first base just like [the Giants] do with Buster Posey whenever he's not catching. On off-nights, he'll play in the field so he stays in the rotation. I wouldn't be mad at that. But I'd like to think of Mike as the catcher who is the center of the squad, captain of the team.
Pitch, Thursdays, 9/8c, Fox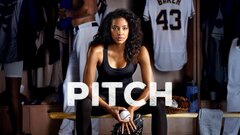 Pitch
where to stream
Powered by