4 Reasons Why 'Pitch' Stole Our Hearts
Not only is Pitch the stigma-crushing drama we had hoped it would be, its writing and casting have turned out to be spot-on. There are so many reasons to fall in love with Pitch but we narrowed it down to some of the most important. If haven't seen Fox's baseball drama, it's time for you to make the run. Warning: mild spoilers for this season are included below.
Pitch gets to play ball … with the blessing of MLB
Yes, the cast actually plays baseball wearing real San Diego Padres uniforms at the real Petco Park. Fox has MLB's blessing, using their logos, film, stadiums and more, all to make Pitch as genuine as possible. Kylie Bunbury, who plays Ginny Baker, the first-ever woman in the majors, and other castmates went through rigorous training, nailing down the dry mechanics and forms of their respective positions. The show travels to different stadiums and faces off against real major-league teams (and you can even see them at MLB's All-Star Game). Audiences watch Ginny struggle atop the pitcher's mound and Mike Lawson slide into home plate at the real Petco Park. The authenticity of the show only heightens the genuine quality of Pitch.
An entire episode ("Alfonso Guzman-Chavez") was dedicated to the high-strung and potentially devastating consequences of MLB trades. Ginny fears she will lose her only true friend on the team, Blip Sanders (Mo McRae) and decides to leverage GM Oscar Arguella (Mark Consuelos) to make sure Blip isn't traded. There's a general feeling of unease in the locker room and Oscar rips Ginny a new one when she approaches him.
RELATED: Pitch: Mark-Paul Gosselaar Previews Insight Into Mike's Past
Bunbury's performance in "Beanball" is just as memorable when Ginny storms the mound for not being beaned by the opposing pitcher. Her ex-boyfriend is the opposing catcher and she gives him an earful, pissed at the Cardinals for treating her differently because she's a girl. The Padres' acceptance of Ginny solidifies when they run onto the field, fists raised, to back her up.
The dynamic between a pitcher and catcher makes for great drama
Ginny Baker has a lot to learn as a rookie pitcher. The dynamic between pitcher and catcher is critical and who better to mentor Ginny than Padres hometown hero and veteran catcher Mike Lawson (Mark-Paul Goesselaar)? The relationship is rough at first; Mike thinks Ginny is a gimmick and Ginny is coming to terms with meeting (and playing with) her baseball idol. The pair find their groove with Mike taking Ginny under his wing and becoming her biggest supporter, on and off the field.
Mike repeatedly stands up for Ginny, whether he's defending her on television or racing out on the field during a beanball fight. In Episode 6, a rift between Mike and Ginny develops after Mike starts dating Ginny's hardnosed agent, Amelia Slater (Ali Larter). The friction between the two even cost them a game. Mike and Amelia note a difference in Ginny and end their relationship. (With Mike definitely hoping Ginny will begin answer his late-night calls again.)
The unwanted spotlight burdens Ginny
A woman playing in major league baseball? The deceptively simple premise of Pitch is a story television has desperately needed. It's not just about breaking the gender barrier in the locker room; Ginny Baker is now a role model for women everywhere. She has to balance her personal and professional life, both of which are in the spotlight. Everything she does is worth news coverage. Ginny, who first and foremost is a "ballplayer," is a national mouthpiece for women, without ever asking to be.
The self-proclaimed "robot in cleats" is merely a twenty-three year old trying to play ball. The combined media attention, misogyny and Ginny's rookie status create a pressure that forces a breakdown. Watching a talented young player struggle during her first major league game and face her past is hard. Ginny's not just a ballplayer or a woman, she's both.
In the Episode 2, a major news story breaks about a Florida woman who was raped in a locker room. The whole world is looking for her to comment. Ginny's unique position gives her a platform she didn't ask for and definitely didn't expect. Though uncomfortable, she agrees to appear on Jimmy Kimmel's show and instead of going along with his "Ginny Baker's Clubhouse Decorating Tips" sketch, she decides to comment on the story she said she wouldn't. Ginny begrudgingly learns she can't always be one of the guys because she isn't a guy, and that's the point. While she yearns for acceptance and equality, she realizes she's always going to stand out.
If you can't take the heat … ask for help
Mental health is an often overlooked issue, especially in sports. Despite her determined path to the majors, Ginny Baker doesn't have it all together. In Episode 6, the show highlights the pressures Ginny was under, spotlighting her emotional breakdown in a sensitive and realistic manner.
RELATED: Pitch Star, Executive Producer on the Ginny Twist
Padres management is worried about Ginny and convinces her to find the help she needs in therapy. Cara, a waitress Ginny ditches her Nike party with, doesn't betray her trust but instead shows a video of Ginny's breakdown to the people who can help her.
Ginny's relationship with her father plays a huge role in her mental health. Her dad, a former minor league pitcher who never made it to the majors himself, made it his mission to see his daughter to the big leagues– no matter the sacrifice. That kind of lifestyle has left Ginny questioning if she would have chosen the game of her own volition. The father-daughter relationship is a pivotal part of Pitch's storytelling and will definitely throw a few curveballs you weren't expecting.
Ginny Baker is a character that deserves your attention. Even if you don't come to the story as a baseball fan, the show's emotion, zingers and drama will keep you watching. You'll be a fan of Ginny, and the fictional version of the Pads, before her first screwball makes it over the plate.
Pitch, Thursdays, 9/8c, Fox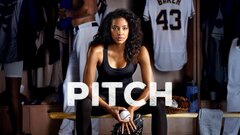 Pitch
where to stream
Powered by