'Pitch' Star, Executive Producer on the Ginny Twist
Warning! Do not read this post unless you've watched the Pitch pilot.
Throughout the first episode of Pitch, the importance of San Diego Padres rookie Ginny Baker's (Kylie Bunbury) relationship with her father (Michael Beach), Bill, was highlighted: from the first time she threw a baseball; when he taught her a signature pitch (which would give her the opportunity to become the first female Major League Baseball player); when a Padres scout approached her; and encouraged her to stop feeling sorry for herself after her first Padres loss and to go back out and practice throwing more balls.
Except, as it was revealed in the final moments of the premiere, Bill actually died in a car crash right after the Padres scout approached the Bakers—and Ginny was only imagining her father in present day.
RELATED: Pitch Imagines the First Female Major League Ballplayer
Think you were surprised by the twist? You weren't alone. Bunbury landed the role months prior to the script being written—in order to allow her time to properly train—and she only found out when she read the pilot for the first time. "I got to experience the script and this story fresh," she recalls. As she went on the journey with Ginny, "it made me feel inspired, it made me feel empowered; it moved me and it touched me, and I knew that if it did it for me, it would do it for others."
And though Ginny was also in the car crash that took her father's life, executive producer Rick Singer confirms there isn't anything wrong with her prompting the visions. "I don't think it's mysterious [and] it's not supernatural," he says. "I think he is an indelible presence in her mind. He's with her at all times, she hears his voice at all times. She is constantly pushing herself to live up to the model that he had laid out. It's taken up such importance to her; she's become incredibly driven."
RELATED: Pitch Recruits Rita Wilson and Lyndsy Fonseca
In fact, when Ginny was interacting with her father in present day, Singer says the pitcher was very aware her father wasn't not physically with her. "She's not delusional at all," he says. "When she's pitching to him and he's saying 'again,' she knows he's not there. But it's a powerful way of showing how alive is still is for her; how much of a driving force he is in her mind. And how much his approval means for her in the pilot."
"It's a very touching moment when he smiles and he says 'You've done nothing yet,'" he continues. "He's giving approval, but at the same time, she knows exactly how he would be feeling—there's a lot of meat left on this bone, we have a long way to go. It's not the end of the story by any stretch having made the major leagues: it's the beginning of a long run."
Pitch, Thursdays, 9/8c, Fox.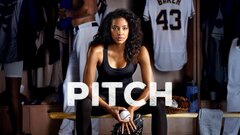 Pitch
where to stream
Powered by