'Pitch' Season Finale: Kylie Bunbury Previews Ginny's Big Decision
As Pitch's first year comes to a close, Ginny (Kylie Bunbury) is faced with a tough prospect: her rookie season with the San Diego Padres could be on the verge of ending since she's near her pitching limit. The blow comes as the team is hanging on to playoff hopes—and in the immediate aftermath of Ginny nearly crossing the line with her teammate, Mike (Mark-Paul Gosselaar), who was almost traded to the Chicago Cubs.
We spoke with Bunbury about Ginny's limitations, family drama, and what playing Ginny has meant to her.
How is Ginny handling possibly being shut down for the season?
It's interesting for her, because obviously as an athlete, you want to push yourself. But obviously you have to take care of your body. One thing can go wrong and your career can be over. But initially, all Ginny is thinking about—especially in the game she's playing—is she just wants to continue playing. That's where she's the most comfortable.
RELATED: Pitch: Kylie Bunbury on Ginny and Mike's Big Moment

Does her gender come into play at all during this debate?
She knows the female body is built differently than a man's body. There is more flexibility in a woman's arm than there is in a man. So she is constantly battling with the head office, the GM and with Kevin Connolly's character as well saying, I can play, here's why. You aren't a woman. My body is different. You'll see what happens; you'll see who is right.
Off the field, brother is also very committed to the restaurant…but it's looking increasingly like Will (BJ Britt) can't be trusted. How is she handling the family conflict in the finale?
She's exactly like I am, in that no matter what her family does, she's always on her family's side. But in this episode, she reaches a boiling point where she has to make a decision. Because her brother has good intentions and she knows that. But there are also secrets he's been keeping, and he also has an ulterior motive. And Ginny figures that out and confronts him about it. It's a really emotional scene. I think everyone can relate to being torn when talking to a family member. They're doing you wrong, but you know their heart and you know who they are. So that will be really interesting for people to see.
RELATED: Pitch: Tyler Hilton on Joining His 'Dream Show' and Romancing Ginny
Looking back at your first season on Pitch, what has playing Ginny meant to you?
She has meant so much to me. I have grown so much in a year of getting to know this character. I have gained a whole new level of love for myself and confidence in myself. It's very evident Ginny has inspired a lot of people and Ginny has completely inspired me. I just learned a lot about myself. The thing is, it's me in these imaginary circumstances. Obviously I'm turning up parts of myself and turning down certain parts of myself, but going through all of these scenes as basically myself, I learned a lot about myself. I've learned how strong I am, and how one person's dream can inspire many. I've learned so much. I'm so glad Ginny is resonating with people and the show is.
RELATED: Pitch's Mark-Paul Gosselaar on Mike's Past and Upcoming Complications with Ginny
Is there a particular experience that meant the most to you?
I've met so many amazing people I look up to. I got to meet Ellen DeGeneres! I've gotten to shake hands with powerhouse women and men. I've been able to be in rooms with people I wouldn't be able to dream of being a part of. It's been such a whirlwind, and I can't believe the first year is over with. It went by so fast, it's hard for me to remember everything.
Pitch, Thursdays, 9/8c, Fox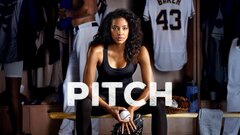 Pitch
where to stream
Powered by