'Pitch': Kylie Bunbury on Ginny and Mike's Big Moment
Spoiler alert! This post contains spoilers for the December 1 episode of Pitch.
With the threat of a trade looming, Mike (Mark-Paul Gosselaar) and Ginny (Kylie Bunbury) went out for a drink in Thursday's episode of Pitch. When it was time to say goodbye, their embrace led to a near-kiss…until Mike got the news that his trade from the San Diego Padres to the Chicago Cubs fell through.
The chemistry between Mike and Ginny was apparent from the pilot; and as their professional relationship grew, the bond between catcher and pitcher carried over off the field. Though there were hints the two felt something beyond friendship—Ginny's discomfort over his romantic relationship with her agent, Amelia (Ali Larter); Mike's longing looks after he talked a teammate out of apparent feelings for Ginny—the idea that he could be on his way to another club made them take action. However, once it became apparent they'd be returning to the status quo, "you see this immediate pushback [in the aftermath]," Bunbury says. "[The thought of,] 'Oh s–t, he's staying.' 'Oh s–t, I'm staying.' 'We can't do this; we're teammates again.'"
RELATED: Pitch: Tyler Hilton on Joining His 'Dream Show' and Romancing Ginny
The close moment was teased in the promo for the hour, which led to speculation (and cheers) from fans of the duo. "The reactions have been wild," Bunbury laughs. "I knew from the beginning people were going to be cheerleading the Ginny and Mike relationship…what do they call us? Bawson? But once they showed that promo, my phone was blowing up from tweets to Instagrams to texts to calls. MP and I have really great chemistry, and I think people have fallen for our characters and really enjoy our scenes together. It makes sense why people are freaking out a little bit."
As Ginny and Mike attempt to put their near-kiss behind them, they turn their focus to the game. And for Ginny, she has a potential new beau in tech billionaire Noah (Tyler Hilton). "I think that's also why [with] Noah the timing is so perfect," Bunbury allows. "This is the thing: they're athletes first. They know the life of an athlete. And they know if they can't do something, they will suppress it. So if Ginny has to suppress it, she will take it on gladly if it means keeping an even keel with the team. How that progresses in terms of the writers, I don't know. But I think Mike and Ginny know that if they're going to remain teammates, they can't be together. I'm sure that's going to cause a lot of drama." Game on.
Pitch, Thursdays, 9/8c, Fox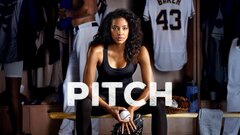 Pitch
where to stream
Powered by