Ask Matt: Can 'Severance' Soar During Awards Season?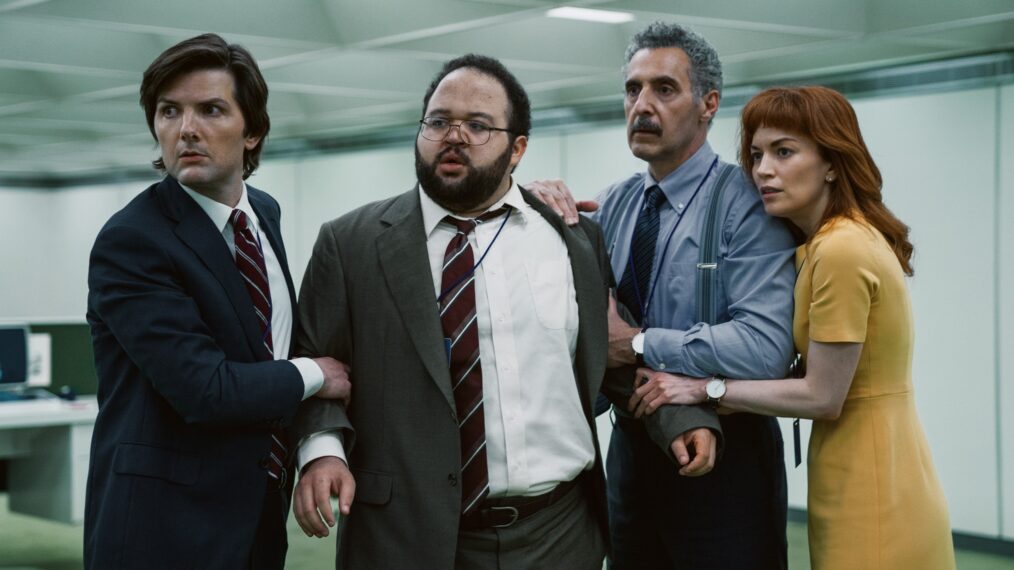 Welcome to the Q&A with TV critic — also known to some TV fans as their "TV therapist" — Matt Roush, who'll try to address whatever you love, loathe, are confused or frustrated or thrilled by in today's vast TV landscape. (We know background music is too loud, but there's always closed-captioning.)
One caution: This is a spoiler-free zone, so we won't be addressing upcoming storylines here unless it's already common knowledge. Please send your questions and comments to [email protected] (or use the form at the end of the column) and follow me on Twitter (@TVGMMattRoush). Look for Ask Matt columns on many Tuesdays and some Fridays.
Will Severance Be the New Kid on the Emmy Block?
Question: I just finished watching Severance on Apple TV+ and absolutely loved it — well worth the price of admission! Now I am wondering how you think it'll fare at the Emmys and award season, and what damage could it cause to Ozark and Succession's winning streak- I hope, I hope. It was a phenomenal debut with a fantastic cliffhanger ending and a first-rate cast. — JWL
Matt Roush: It used to be that first-season shows weren't slam-dunks at the Emmys, but with the expansion of slots echoing the glut of options in today's streaming universe, I'm fairly confident Severance will make the cut. It obviously deserves to, and during its initial run earlier this year there was a sense that it kept building buzz by the week. (It's always interesting to be reminded that audiences keep discovering streaming series at their own pace.) Toppling a juggernaut like HBO and Succession won't be easy, and one way to gauge Severance's chances will be to look at the full list of nominations to see how it fares in acting, writing, and directing categories. If a show is being acknowledged on all creative fronts, that constitutes a breakthrough. This year's nominations will be further complicated by the addition of the global phenomenon that was Squid Game, but I'm betting Severance will make a decent showing — and sometimes just being nominated is what really matters.
When Marvel and Star Wars Collide
Question: I am a little surprised that Disney+ is releasing Ms. Marvel while Obi-Wan Kenobi is still going. Up until now, Marvel and Star Wars series did not overlap. Even the individual IPs did not overlap with each other. There would normally be a break between series. I am sure there is some crossover with people watching both Star Wars and Marvel shows. I wonder if this is to get people to stay on the service longer during a viewing session. Do you think the "release two at once" strategy is partly about data-gathering, to see how it affects viewership of both shows, which people watch first, etc.? Maybe as more content is generated from each IP, this will be more common though they could release each on a different day of the week. What are your thoughts? — Todd G
Matt Roush: It's possible that Disney's streaming series were more spread out in the first years because of production difficulties, particularly during the pandemic, along with other challenges in establishing a start-up and giving each brand extension a chance to breathe. I figure Disney+ sees this current overlap as a more-the-merrier situation, taking advantage as well of the summer season when consumers theoretically have more time to indulge their passion for these franchises on the big and smaller screens. And obviously, any programming that encourages the consumer to spend more time staying put, perhaps seeing Ms. Marvel as an Obi-Wan Kenobi palate cleanser (or vice versa), would be a win-win for Disney. I don't see any evidence that one is stealing the other's thunder.
What Honeymoon Period?
Question: The more apt title for The Good Doctor after the most recent season is The Good Doctor's Wife. I can't be alone in being on the fence about this show after its significant departure from the original premise. It's less and less a medical show and more a personal relationship/Lea-centric show. After losing a number of key (and compelling) characters, the show now revolves primarily around Shaun and Lea's burgeoning relationship. If her hard-to-swallow career trajectory in the show were not enough, the fact that she's now involved in many of the medical cases is simply too much. What are your thoughts on the audience being force-fed a steady Lea diet? Will this lead to the show's demise? — Melissa
Matt Roush: It hasn't killed the show yet. And while I'm sure you're hardly the only one who has an allergy to the Paige character (who admittedly can be an acquired taste), from the start The Good Doctor has been every bit as much about Dr. Shaun Murphy's emotional development as it is about his unusual professional journey as a surgeon/doctor on the spectrum. Bringing Lea into the workplace may feel a bit forced, but the ups and downs of him learning to live with someone and commit to them is always going to be a significant part of the show. That said, I enjoy this (and other shows like it) more when the balance leans more toward the medical cases and less when it indulges wall-to-wall soap opera.
The Sophomore Curse
Question: Why does CBS cancel very good comedies after only two years? Last year it was The Unicorn, and this year it's B Positive and The United States of Al. I really start liking the characters and the storyline, and then they're gone. — Candy
Matt Roush: That's an interesting observation, and the best way to explain it is that networks often give a show a second season to test its potential for growth. When that doesn't happen — in the ratings, or possibly (less likely) creatively — the network then makes the tough call to drop the show. I was especially fond of The Unicorn and sorry that it ended too soon, though not surprised, because it was so much quieter and lower-key than the typical CBS sitcom. B Positive (pretty much an entirely different series in Season 2) and United States may have got a longer leash because of CBS's relationship with longtime hit maker Chuck Lorre (Two and a Half Men, The Big Bang Theory, Young Sheldon, Mom), and I was somewhat surprised that both of them were axed during a particularly bloody cancellation period, but none of these shows were breakout hits the way Ghosts exploded in its first year. So CBS is trying something different in the fall: a humorous legal dramedy (So Help Me Todd) on Thursdays where an hour block of sitcoms used to be. We'll see how that works.
When's Part 2?
Question: I watched Buried in Barstow on Lifetime and thought it was very good, but was surprised at the unresolved ending, when the screen read "to be continued" without any information on when and how. Do you know how l can watch the rest of the story? – Lil Parks
Matt Roush: That was meant to tease you that there will be more of the story and that this was the first in what is expected to be an ongoing TV-movie franchise. Lifetime hasn't officially announced a renewal or a timetable for the next chapter, but if the enthusiastic response in my mailbag is any indication, Angie Harmon and Lifetime could have a hit movie series on their hands.
And Finally …
Comment: In a recent issue of TV Guide Magazine, there was a short feature about what was billed as the "Original Drama" Operation Mincemeat, which premiered on Netflix May 11. Original Drama indeed. It was original 66 years ago as the movie The Man Who Never Was. — Jack B, Laguna Niguel, California
Matt Roush: Good catch. The "Original Drama" billing is only meant to indicate that the movie is a Netflix original (as opposed to an acquisition or previously released film), not a comment on the movie's content. I enjoyed Operation Mincemeat, about a WWII espionage plot, and now I'll try to keep an eye out for the first telling of the story if and when it ever pops up on Turner Classic Movies.
That's all for now—and because I'll be taking some time off, we'll pick this up again after the 4th of July weekend. But we can't do this without your participation, so please keep sending questions and comments about TV to [email protected] or shoot me a line on Twitter (@TVGMMattRoush), and you can also submit questions via the handy form below. (Please include a first name with your question.)