'Stranger Things': 'Running Up That Hill' & More Iconic Music Moments From Series
[Warning: The below contains MAJOR spoilers for Season 4, Volume 1 of Stranger Things.]
Stranger Things is back and already delivering plenty of iconic moments in Volume 1 of its long-awaited fourth season, particularly in the installment, "Dear Billy." In case you haven't tuned into the latest batch of episodes, now would be a good time to turn around as we delve into spoiler territory.
As for viewers who have already binged all seven episodes of the new season so far, we're taking a peek at some of the show's most memorable music moments over the series, ranging from the use of "Heroes" in Season 1's "Holly, Jolly" to Kate Bush's prominent presence in Season 4 with "Running Up That Hill." (*Note: Click song title headers, below for a listen and look).
Since Season 4's arrival, this tune has shot to the top of music charts years after its 1985 debut, thanks in part to one of Volume 1's most defining moments. In this latest chapter of the series, teens of Hawkins, Indiana begin falling victim to the new big bad, Vecna (played eerily by Jamie Campbell Bower). This villain targets kids who are dealing with internalized trauma and Max Mayfield (Sadie Sink) is a perfect candidate as she continues to grieve the loss of her step-brother Billy (Dacre Montgomery).
As she begins to fall under this dark wizard's curse, it's a race against the clock to try and save Max who begins exhibiting the same dangerous signs Vecna's other victims did moments before their deaths. Luckily, music seems to be the remedy in pulling Max out of her fog, and Lucas (Caleb McLaughlin) helps in locating the cassette with her favorite song to break the spell. While Max runs from Vecna in the Upside Down setting, the swelling notes of the powerful song add to the high stakes feel of the moment as she escapes the villain's grasp.
In the earlier half of Season 1, Mike (Finn Wolfhard), Dustin (Gaten Matarazzo), Lucas, and Eleven (Millie Bobby Brown) work on locating Will (Noah Schnapp) after he seemingly vanished into thin air. As Eleven tries leading them to where she thinks he's located based on her special abilities, the kids walk upon a recovery site.
Hiding behind a rescue vehicle, the quartet watch from a distance as a body is pulled from water nearby. Resembling Will, they're shattered to think that their missing friend has died and Peter Gabriel's somber cover of David Bowie's "Heroes" begins to play. Meanwhile, at the same time, Joyce (Winona Ryder) begins connecting with Will from the Upside Down as she uses Christmas lights for him to convey messages. It's a chilling and pivotal development that is only made more memorable by the use of music. The emotion of the song is brought back to the surface in Season 3 when it's used over the sequence of the Byers family and Eleven leaving Hawkins after Hopper's (David Harbour) presumed death.
In a flashback sequence to the beginning of Chief Jim Hopper and Eleven's father-daughter bond, they enter his old cabin where he picks out a record to play while they tidy up. A fitting choice considering his own name, Hopper picks Jim Croce's "You Don't Mess Around With Jim." Perhaps the most memorable aspect of the scene though is the police chief's silly dad dance.
After previously hyping up Hawkins Middle School's winter dance, the Snow Ball, in Season 1, the sophomore run concluded with a sweet reunion for Mike and Eleven at the event. Making her entrance set to The Police's "Every Breath You Take," Eleven grabs the attention of Mike who is sitting sadly in the corner. While the moment is hopeful, the song also serves as a warning as the since-banished Mind Flayer looms over the school from the Upside Down, suggesting that this isn't the end of their ongoing fight with the supernatural.
Serving as a perfect callback to the '80s, Dustin's girlfriend Suzie (Gabriella Pizzolo) requests that he sing the theme from The NeverEnding Story, as a way of making up for being absent from their radio conversations. As Dustin sought a sequence of numbers to help save the world, he had to perform this duet in exchange for the information leading to one showstopping, foot-tapping musical number. It's hard to keep the catchy beat from permeating our minds, but that's better than the alternative in the Stranger Things universe where Vecna has been plaguing the minds of teens in Season 4.
While there's not one specific scene that this song is attributed to as it pops up a few times in Season 1, it's the tune's continued use that makes it so memorable. While Will is stuck in the Upside Down, Joyce tries to find her son and she begins getting phone calls from unknown sources. In this particular episode, the phone rings and Joyce hears her son's voice call for her before lights and music begin going off in the house. The song happens to be "Should I Stay or Should I Go," which conveys Will's uncertainty of where to run to or hide in his unknown environment where Demogorgon are on the loose.
See Also
Plus, we break down some of the chapter's scariest elements.
What's your favorite music moment from the series so far? Let us know in the comments section below, and stay tuned for more as Volume 2 awaits viewers this July.
Stranger Things, Season 4, Volume 2, Premieres Friday, July 1, Netflix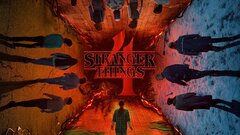 Powered by