Ask Matt: Why Bench 'Wonder Years' to Midseason?
Welcome to the Q&A with TV critic — also known to some TV fans as their "TV therapist" — Matt Roush, who'll try to address whatever you love, loathe, are confused or frustrated or thrilled by in today's vast TV landscape. (We know background music is too loud, but there's always closed-captioning.)
One caution: This is a spoiler-free zone, so we won't be addressing upcoming storylines here unless it's already common knowledge. Please send your questions and comments to [email protected] (or use the form at the end of the column) and follow me on Twitter (@TVGMMattRoush). Look for Ask Matt columns on many Tuesdays and some Fridays.
Abbott Elementary and Wonder Years Would Go So Well Together
Question: I hadn't watched The Goldbergs regularly in a long time, but out of morbid curiosity I decided to turn on the graduation season finale, hoping they'd come up with something special. They didn't. How many times can Beverly be overbearing and then walk it back and learn everything will be OK? Still, it was a mixed blessing, because I ended up getting sucked into the finale of The Wonder Years. I generally tend to avoid revivals of shows I never saw (I was 5 when the original went off the air), but I know you've recommended it, so I shouldn't be surprised about how easy it was to watch and become invested in this family. It felt emotionally honest, warm, and funny (unlike The Goldbergs). But after watching this, I felt like Abbott Elementary and The Wonder Years together would make an appealing and cohesive hour if they were paired together. So why bench Wonder Years for the fall and give Abbott the tired Goldbergs as a Wednesday lead-in? — Jake
Matt Roush: It is disappointing for The Wonder Years to sit out the fall, but I reckon that ABC's reasoning would be that even though linear scheduling doesn't matter as much as it used to, there's an upside should longtime fans of The Goldbergs possibly stumble upon Abbott Elementary (the way you did The Wonder Years), making it an even bigger Season 2 hit. (I'm also hoping Emmy nominations will continue to raise Abbott's profile.) I agree Abbott and Wonder Years would make an excellent hourlong comedy block, and maybe that could happen by midseason or when ABC decides to finally retire The Goldbergs.
Making the Case for This Is Us as TV's Best Drama
Comment: This Is Us is stellar, and while the end of it is sad in some ways, I cringe when I hear people already asking questions about reboots and spinoffs. No. The creator had a six-season plan, he executed it superbly, and it's time for the show to end and live on in our memories as one of the best offerings TV — network or otherwise — has given us in decades. I fear the Emmys will unfairly look past the show — Mandy Moore should just be handed the Outstanding Lead Actress in a Drama Series trophy right now — but I hold out hope that since this is the show's last season, the TV Academy will do the right thing and give the show the recognition it deserves by naming it Outstanding Drama Series. Sure, cable and streaming can produce shows that are edgier or less formulaic than most of what's on the networks, but This Is Us has proven itself as anything but formulaic. If the penultimate episode "The Train" didn't prove it was innovative, nothing will. It was poetic, and I couldn't help but think it's the stuff Emmy reels are made of.
The last network show to win Outstanding Drama Series was 24 — 16 years ago! Since then, every winner in the category has come from cable or a streamer. As much as I obsess over 24 and watch it again and again (it's my personal favorite show ever), even I know that This Is Us is far, far superior, and I hope it gets the recognition it deserves while it still can. There may literally never be a network offering this good again. — Travis K, Irving, Texas
Matt Roush: First, thanks for such an eloquent salute to a memorable show that deserves all the accolades it can get, especially for this moving final season. Second, I agree that any clamoring for a reboot or a spinoff is a lost cause, because as much as we'd love to spend more time with the Pearsons, this is the natural end to their story, and we should be more than satisfied when a series reaches its finish line in such great shape. As for its Emmy chances, I'm just hoping This Is Us makes the cut, and because NBC is the hosting network this year, that the ceremony will include a meaningful tribute to a show that meant so much to so many. The competition in this category is always tough, and this year is likely to include past winner Succession, the final season of Ozark, upstarts like Yellowjackets and Apple's terrific Severance and the global phenomenon of Squid Game. Amid all that chaos, what chance does an uplifting drama about family and memory have? We'll see.
The New Sheriff in Town
Question: I watched the Big Sky finale and was stunned to see Jensen Ackles as the temporary sheriff. How did I miss that happening, and who was the idiot at ABC who didn't publicize it? It wasn't even mentioned in the TV Guide Magazine cover story on him. I checked and saw Big Sky has been renewed, so my burning question is will Ackles be a regular or at least be doing an arc? I would seriously tune in to watch him recite the phone book, especially if he throws in a few "darlin's"! — Mary S
Matt Roush: Isn't it nice, though, to be so pleasantly surprised once in a while? It happens so infrequently in our spoiler culture, and while news of Jensen Ackles' appearance did begin to leak in the week before the finale aired, ABC chose not to actively publicize the casting until very close to air. Which I happen to find refreshing. Regardless, he will be a regular for Big Sky's third season, which is good news — but honestly, I'm even more excited by Reba McEntire joining the cast. Can't wait to see what they have in store for her.
Impatient with New Amsterdam
Question: Did I miss an episode of New Amsterdam? How did Helen go from hardly being able to speak in New York to London? At work in her clinic? And now she is going to give it all up and go back to New York? Can't figure out what Iggy is doing, either. At one time, you suggested a spinoff for him, do you still feel that way? And Floyd is still a mess! Perhaps they should just quit here and save us all the agony! — Kay G
Matt Roush: The plotting has been especially messy on this hospital drama lately, and I too was startled when Helen bounced back so quickly from her speech breakthrough after having suffered what seemed like such a devastating stroke. The back-and-forth from London to New York for both characters has been ridiculous, and while I still feel Iggy's emotional caseload would make for a good stand-alone show, his train-wreck storyline of emotional (not physical) infidelity causing strain in his marriage, and then deciding that his husband was the problem all along, is beyond tiresome. And I felt both New Amsterdam and The Good Doctor bungled the end of their too-long story arcs (which I hated) about evil penny-pinching villainesses taking over their hospitals. I'm glad they're gone, but the shows whiffed their exits.
Question: Several weeks ago, New Amsterdam was listed as canceled in TV Guide Magazine. Yet at the end of last week's show, it said the next episode would be the season finale, not the series finale. So I'm hoping they either changed their minds or they got it wrong that this show had been canceled. Which is it? — Hazel
Matt Roush: Neither. I know this time of year can be confusing, but the cancellation notice in the magazine said that New Amsterdam would end after its fifth season, which is correct. The show is finishing its fourth year this week, and it will return in the fall for a shortened final season. Kay will likely be thrilled to see it go.
What Sank Magnum?
Question: To say I'm irritated at the last-minute cancellation of Magnum P.I. is an understatement. I won't get on a soapbox because it would do no good. I read that the cancellation of this fun show was "reportedly due to licensing fee disagreements between CBS and Universal Television." We fans are just left to accept this at face value. Can you explain what licensing fees are and how Magnum's fees differ from the fees of other popular CBS series, such as Blue Bloods, S.W.A.T., The Equalizer, the NCIS shows, etc? The cancellation could not have been based on ratings. I follow the TV Guide Top 25 religiously and I believe Magnum landed there most of the time. I was hoping it would have a lengthy run like that of another great reboot, the late Hawaii Five-0. CBS should hang its head at this sad sacrifice! — Steve
Matt Roush: I'm not privy to these sorts of granular financial details, but shows like Magnum that are primarily produced by an outside studio (Universal) face a tougher road than shows that are produced fully in-house (Paramount for CBS) like the NCIS franchise. CBS airs other shows in partnership with Universal, most notably Dick Wolf's FBI franchise and The Equalizer (which struck a two-season renewal, no doubt amortizing costs over two years). Why they couldn't make the numbers work for Magnum I don't know, but the license fee a network pays out to a studio rarely if ever covers the full production costs (which continue to rise even as overall network viewership continues to decline). So these become difficult economic decisions for studios and networks, and every year there seems to be at least one casualty that sparks an outcry.
Oh, That Old Trick!
Question: I've been a follower of Law & Order: Organized Crime since Day One. We've now closed out season #2, a pretty good run about a bunch of dirty cops. Although for the life of me, I'll never understand why Christopher Meloni (star and executive producer) didn't demand a rewrite around his "death" scene. Stabler takes two (or three) to the chest by a bad cop. Others (including Donnelly) look on, write him off, and leave. Are you kidding me? These guys wanted him dead, badly! Yet not a one thought to see if he was wearing a bulletproof vest. Really? Am I the only viewer who had a problem with this? — Carroll W
Matt Roush: I'm sure you're not the only one, but you're the first to write to me about it. By now, we've watched so many crime shows that most of us probably take a predictable twist like this for granted. I remember my first epiphany about this sort of situation: When I was a kid watching Batman in first run in the late 1960s, I kept wondering why the villains would always leave the room when Batman and Robin were in mortal danger during the cliffhanger (to be resolved the next night at the same bat-time on the same bat-channel), not waiting to watch the result of their dirty work and thus giving our heroes the chance to escape. You had to know that they weren't going to kill off Stabler, since he's the star of his show, so while you might be dismayed at how unoriginal this scene was, are you really surprised?
That's all for now—and look for the next column a week from Friday because of the Memorial Day holiday. Remember we can't do this without your participation, so please keep sending questions and comments about TV to [email protected] or shoot me a line on Twitter (@TVGMMattRoush), and you can also submit questions via the handy form below. (Please include a first name with your question.)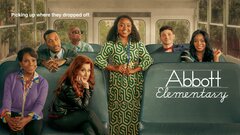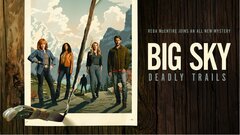 Big Sky
where to stream