Ask Matt: Future Shock on 'This Is Us'
Welcome to the Q&A with TV critic — also known to some TV fans as their "TV therapist" — Matt Roush, who'll try to address whatever you love, loathe, are confused or frustrated or thrilled by in today's vast TV landscape. (We know background music is too loud, but there's always closed-captioning.)
One caution: This is a spoiler-free zone, so we won't be addressing upcoming storylines here unless it's already common knowledge. Please send your questions and comments to [email protected] (or use the form at the end of the column) and follow me on Twitter (@TVGMMattRoush). Look for Ask Matt columns on many Tuesdays and Fridays.
Are the Pearsons in Danger of Becoming Too Famous?
Question: In my opinion, one of the big draws of This Is Us is the ordinary family vibe you get from the Pearsons. It seems that's about to change, however. Gleaning from the future scenes and what was said in one of the more recent episodes, you can infer that Randall becomes a famous senator (if not higher office) and his brother Kevin becomes an Oscar-winning actor (if you are to believe the Easter eggs) and their nephew Jack will become a famous musician. If this happens, not only are they not a relatable family anymore, but they would become one of the most famous families in America! It just seems a little out of touch with the rest of the show. — Mac
Matt Roush: That's an interesting perspective, but the series has always had an element of wish-fulfillment fantasy in depicting Kevin's roller-coaster TV and film career and his undeniable celebrity. And while those flash-forward scenes are fun fodder for speculation, that's not the show we're watching (at least not mostly), so this is more a case of not having to wait for the final reel to see how things turn out for these beloved characters. Maybe it's a reach to reveal that so many members of the same family will have a very public profile, but the stories This Is Us continues to tell tend to be much smaller and deeply personal, and I hope it stays relatable to the end.
Good News for Sam's Future?
Question: Good Sam is a wonderful medical series and one that holds a lot of potential for CBS. I realize the ratings have been low this season, but do you believe the decision-makers at the network will give it a chance to succeed? It's the first medical series on CBS since Code Black, and one which, if grouped with the right series (like NCIS, for instance) could do well for the network. I hope they will give the show a chance. — Jerry
Matt Roush: This is a tough call. It's obvious that CBS would love to have a successful medical drama in its lineup, but whether this is the right fit remains to be seen. The initial premise (father vs. daughter) always seemed a bit thin for me, but Good Sam's future probably hinges on whether the Powers That Be believe it has room to grow and whether there are shows in the development pipeline they believe have more promise. It's a classic "bubble show" situation, and we may not know more until the next season's schedule is announced in May.
All About Teamwork
Question: I am not sure, I might have missed an episode, but I'm wondering why OA (Zeeko Zaki) and Maggie (Missy Pergrym) aren't partners on FBI right now. — Janis L
Matt Roush: It's not that they aren't partners, they just aren't being paired on every single episode anymore, at least for now. From what I've read, the producers wanted to mix it up a bit in the fourth season — and who can blame them — which is why they're letting the two original stars work alongside some of their fellow agents from time to time.
There Oughta Be a (Better) Law
Comment: Regarding the rebooted Law & Order, I am four episodes in and about to bail, and based on the ratings a lot of viewers are thinking the same. I am beyond gutted. The look is the same but the feel isn't. Some good actors are putting in some of the worst performances of their careers and I blame the writing. I am really hating the first half more. Anthony Anderson and Jeffrey Donovan are painful in their expression. I am waiting for Anderson to look at the camera and say this is a parody. (Do you remember The Simpsons parodying Die Hard with McBain? This is what it reminds me of.) Camryn Manheim looks lost, as if she still thinks she's on the set of The Practice.
The law side isn't as bad but it needs work: Hugh Dancy is better but wooden and just always seems angry, Odelya Halevi could be the worst DA in the entire series (I am waiting to see if she's actually a robot) and Sam Waterston is earnest as always but needs to smile. I desperately miss a good old courtroom show, but the stories so far have been just predictable and boring. I feel they rushed the process to get this on the air and it needed more time to get it right. NBC and Dick Wolf: Snip some of the cast, get some good writers and revisit the heyday of one of the best shows ever made. And for a show trying to be all diverse with their stories so far, why not actually show you really are about inclusion and diversity by adding perhaps an Asian or an LGBQT character or a female detective to the cast. — Cam
Matt Roush: Besides that, how are you enjoying the show? (Kidding.) I get it, and I mostly agree that the reboot is not jelling in as satisfying a way as many had hoped. The writing, directing, and performances all seem to be trying to find the right tone for a legal procedural that was never as overheated as SVU but also shouldn't fall this flat in its formula storytelling. It's a puzzlement, but this is such a mighty franchise I'll be surprised if NBC doesn't stick with it in hopes it will find its own effective voice.
Midseason Confusion
Question: When is New Amsterdam supposed to come back for its fifth and final season? — Charlie S
Matt Roush: First the show needs to finish its fourth season. Midseason scheduling is notoriously confusing, but New Amsterdam is currently set to return April 19 for the remainder of the current season — when I hope they can put the storyline involving the horrible Veronica Fuentes (Michelle Forbes) to rest. When the series returns for a shortened fifth and final season of 13 episodes, it's unclear at the moment if NBC will start it in the fall and air it straight through (to early 2023) or, as with the final episodes of This Is Us this year, hold it back until midseason and run it straight through to the end of the season in May. Either way, the end is nigh for Max & Co.
And Finally …
Question: If they ever do a tv biopic on Meat Loaf, do you think that Jack Black could pull it off? I think that he would be a good choice. — Karl
Matt Roush: So do I. He'd be almost too perfect. I'm almost surprised something like this isn't already in the works.
That's all for now. We can't do this without your participation, so please keep sending questions and comments about TV to [email protected] or shoot me a line on Twitter (@TVGMMattRoush), and you can also submit questions via the handy form below. (Please include a first name with your question.)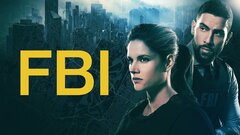 FBI
where to stream