Fox's 'Welcome to Flatch' Stars Talk Shrub and Kelly's Dynamic (VIDEO)
Flatch, Ohio is an exciting, vibrant place to live—at least according to the right people. Troublemaking cousins and BFFs Kelly Mallet, played by Holmes (they/them), and Lloyd "Shrub" Mallet (The Kids Are Alright's Sam Straley) love their small midwestern hometown highlighted in Fox's new mockumentary sitcom, Welcome to Flatch.
Holmes' Kelly is confident, athletic, and a wannabe businesswoman. "There's no one like her," Holmes says. "I would also say that she's a little bit of a coconut…she's hard on the exterior, but if you really know her like Shrub does, she's a real big softie."
Shrub, meanwhile, is the yin to her yang. "He is super sensitive," Straley says. "He's an artistic soul without the means to express it always, and I think that can lead to some frustrations and some anger." He adds: "I would [also] say he's the feminine energy in the masc/fem [identity], which is a very exciting dynamic to dive into."
Despite their immediate contrasts, their bond is strong, which you'll see as they tackle everything from creating a ride-share company to winning competitions at the town's seasonal festival throughout Season 1. "They are really different," Holmes says. "For Kelly and Shrub, they have not a lot of people in their town. Their other family members aren't really the support systems they need, and so I think that they really kind of found a family in each other, and I think that really is the heart of the show."
Rounding out the folks in Shrub and Kelly's lives are pushover Father Joe (Seann William Scott), the minister's ex-girlfriend, journalist Cheryl Peterson (The Boys star Aya Cash); Shrub's wannabe bestie Mickey St. Jean (Justin Linville); Kelly's frenemy Nadine Garcia-Parney (Taylor Ortega); and townie Mandy Matthews (Krystal Smith), among others.
Check out the video above for our chat with Straley and Holmes and get ready to enter Flatch.
Welcome to Flatch, Series Premiere, Thursday, March 17, 9:30/8:30c, Fox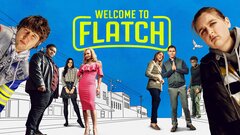 Powered by