Fox's 'Welcome to Flatch' First Look: Meet the Characters (VIDEO)
"There's not a lot going on in Flatch," says star Seann William Scott, who plays minister Joseph "Father Joe" Binghoffer. And he's not wrong. The Midwestern town at the center of Fox's new Welcome to Flatch, premiering Thursday, March 17, is purposely uneventful, though. The show is the perfect portrait of that sometimes idyllic small-town life and includes all of that life's colorful characters.
And they are indeed colorful. In the exclusive clip above, meet the eccentric Flatchians, who have agreed to appear in a documentary about their midwestern lives in the half-hour comedy inspired by BBC Studios' BAFTA-winning This Country.
This series, from Jenny Bicks (Sex and the City) and Paul Feig (Freaks and Geeks), centers around destructive best friends and cousins—confident Kelly Mallet (Chelsea Holmes) and artistic Lloyd "Shrub" Mallet (Sam Straley)—who actually find the town of Flatch to be endlessly fascinating. "To some people, it's really mundane and stark and boring, but to Shrub and Kelly, it's an opportunity to really play," says Straley of the dynamic duo.
In addition to Shrub, Kelly and Father Joe, viewers will meet the minister's ex-girlfriend, journalist Cheryl Peterson (The Boys star Aya Cash), Shrub's wannabe bestie Mickey St. Jean (Justin Linville), Kelly's frenemy Nadine Garcia-Parney (Taylor Ortega) and townie Mandy Matthews (Krystal Smith), among others.
"We don't have this style of show—we haven't for a while—where you get to inside the heads and inside the worlds of these odd characters," says Bicks of the comedy series.
Check out the exclusive clip above to learn more about the characters of Welcome to Flatch and go behind the scenes.
Welcome to Flatch, Series Premiere, Thursday, March 17, 9:30/8:30c, Fox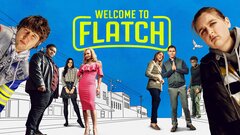 Powered by