'Scandal': A Second-By-Second Breakdown of the 10-Second Teaser Trailer for Season 6 (VIDEO)
Every episode of Scandal seems to leave the viewer on the edge of their seat. Season 5 was no different, and in the new teaser for Season 6, it looks like much hasn't changed.
The last time we saw Olivia Pope (Kerry Washington), she was watching Jake (Scott Foley) take the stage with Mellie (Bellamy Young), to announce his candidacy for vice president. While Season 6 is still a couple of months away, the new teaser gives us some exciting things to look forward to. The 10-second teaser is jam packed with tease worthy material:
00:01
The teaser starts off with promising text: "The World Premiere" written in the bold Scandal font that any fan is familiar with, before quickly panning to the leading lady herself. Olivia is standing with a vexed expression looking into the distance, a distance which contains things at which we can only guess.
00:02
President Grant (Tony Goldwyn) in a tense situation room moment with David Rosen (Joshua Malina), the look on their faces making all of us wonder what could possibly be happening. Seriously, what could be happening where all of our favorite characters are shocked?
00:03
Finally! We get a little more info as to what "The World Premiere" is when the teaser shows the text "New Scandal Trailer" in that same red font. We can all breathe a sigh of relief because our favorite team of gladiators will be returning even if its only in a trailer for now.
00:04
A quick pan to Abby with a horrified face only confirms what has been revealed to us in the prior three seconds, that something big is going down.
RELATED: Shonda Rhimes: Real-life Presidential Election is Crazier than Scandal
00:05
Is that Olivia with her head against the President's chest? There will surely have to be some good explanation behind that. Since last season they weren't always on the same page.
00:06
In the most juicy second of the entire segment, Quinn (Katie Lowes) and Huck (Guillermo Díaz) face a massive explosion. Could it have anything to do with the former B613 head and Olivia's father Rowan Pope (Joe Morton), or could the gladiators be facing something more daunting?
00:07-00:10
"11.3.16" is the text that greets us in our favorite, friendly but fierce shade of red that brings to mind Olivia's preferred type of wine. This is the date when we may finally have some questions answered, but let's be honest, the trailer will probably generate even more questions. As the teaser lingers on this date, we are able to allow the excitement to sink in. Buckle up because this next season is sure to be a bumpy ride!
Scandal, Returns 2017, ABC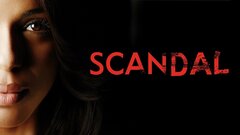 Scandal
where to stream
Powered by