'Frequency': Peyton List and Mekhi Phifer Tease Raimy's Contrasting First Days at the NYPD
In this week's episode of Frequency, a case prompts Raimy (Peyton List) to remember contrasting first days working for the NYPD: One where her father was present and one where he was long-gone.
Raimy is no stranger to a changing timeline—the series follows her communications with her father (Riley Smith), Frank, who is living 20 years in the past, as they attempt to stop the Nightingale killer before he kidnaps Raimy's mother (Devin Kelley)…and the changes to the future as Frank alters the past—but the experience was a pleasant surprise for List. "I had no idea that we would even tackle something like that," she told reporters on the Vancouver set of The CW series. "That we would be exploring a memory of something that was her as a really young adult and then also throwing back to the original timelines. I sort of thought the original timelines would be out and we wouldn't revisit how that panned out in her real original memory. So, it's really interesting…it's like the fork in the road."
The experiences were significantly different for Raimy. "Comparing the same day—how it goes differently if you're on the job with a parent and someone who's looking over your shoulder in that way or if you're going in completely by yourself, thrown into the deep end, and trying to prove yourself," List says.
RELATED: Frequency:A Father-Daughter Cop Duo are Separated by a Radio…and 20 Years
Filming the episode was complicated in its own way, as well. "I'm in the same wardrobe, we're using pretty much the same sets, so we were shooting it back-to-back in every single set," List said. "And it was: 'OK, Frank timeline. OK, Stan timeline.' And doing that switch so quickly…it was kind of a bizarre sort of journey to shoot it because you want to make it [obvious] she is different in different timelines. How she thinks of herself, how she thinks of others and how she would treat her dad and how she would treat Stan are entirely different. So I think we'll see sort of what the different dynamics are for the characters given those circumstances."
Satch (Mekhi Phifer)—one of the few presences in both timelines—also has a varied role in the different timelines. In both realities, "he's proud of her," Phifer said. "In a nutshell, he's seen her go through the academy, go through the ranks. But there's two realities: the reality of Frank being there and seeing it, and then him not being there. In the reality he is not there, Satch took on much more of a mentorship, fatherly role. If he's around, he wouldn't have to take that role. He's a fun uncle. He's definitely proud of her and proud of seeing her go through the ranks and finally live up the dream of being an officer."
Frequency, Wednesdays, 8/7c, The CW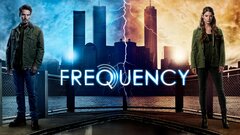 Powered by