Roush Review: The CW's Charming 'No Tomorrow' and Fuzzy 'Frequency' Remake
There are three distinct brands within The CW's universe of niche programming: the DC superhero adventure (led by Tuesday's The Flash and Wednesday's Arrow, with CBS import Supergirl flying in next Monday), the supernatural thriller (the undying Supernatural and the fading Vampire Diaries franchise) and my personal favorite, the offbeat romantic comedy, represented by two of my favorite upstarts from the past two seasons: Golden Globe winners Jane the Virgin and Crazy Ex-Girlfriend.
While it's not quite up to the level of the shows that helped redefine the telenovela and the musical comedy for U.S. audiences, I've fallen for The CW's latest rom-com, No Tomorrow, in a big way. Featuring two of the most instantly charming characters of the new season, Tomorrow is a screwball comedy about Evie (the adorable Tori Anderson), an awkward wallflower-at-life who learns to loosen up after meeting her dream man, Xavier (Galavant's disarming Joshua Sasse), who just might have a screw loose.
More Roush Reviews: See What Matt Thinks About Other Shows
The enjoyable pilot episode is mostly Evie's story, the fable of a shy young woman stuck in a dead-end job at a big-box warehouse, all very modern-day Cinderella—except that the wicked stepmother is a soul-crushing boss with "demon breath," a thankless role played by sitcom veteran Amy Pietz. Evie's own family (including Ted McGinley as her dad) is actually kind of sweet, if condescending, and you can see why she feels just as trapped by their patronizing attitude.
But then, thanks to some significant eye contact at a farmer's market and a mis-delivered case of (wait for the symbolism) "Carpe Diem" craft beer, Evie gets the meet-cute she's been waiting for, and the sexily uninhibited Xavier enters her life, telling her to think bigger. "It's like you live in a SkyMall catalog," she gasps upon entering his bohemian bachelor-pad home, more than willing to be swept off her feet and into new adventures. What at first looks fresh, funky and liberating soon reveals its weirder side, when Xavier turns out to be working off of an "apocalyst" of bucket-list antics because he's convinced the Earth only has eight months and 12 days left until annihilation.
Besides that, he's perfect.
The first episode packs so much incident into a single hour, including a karaoke scene that's less screwball than cornball, that it feels more like a movie than a TV show—not always in a good way, but in the way that makes you wonder how long this premise can sustain itself. Especially once No Tomorrow hits the eventual tomorrow of Xavier's Day of Apocalypse and nothing (presumably) happens.
RELATED: The Stars of No Tomorrow Give Their Bucket Lists
Until then, though, seize the Tuesday and think about making No Tomorrow a regular part of your immediate future. (Though if you're like me, you'll be watching NBC's This Is Us when it moves to the 9/8c time period next week, and recording this for later. Xavier's prognostications aside, there's plenty of time to enjoy both.)
TIME AND TIME AGAIN: The CW is going somewhat out of its comfort zone with Frequency, but it does tap into two of the season's more prevalent trends: remakes and time travel (with a ham radio as the portal between decades). The series version of the 2000 cult movie performs a gender reversal, as the focus is now on Raimy (Peyton List in the Jim Caviezel role), a daughter who's reunited with her long-deceased father (Riley Smith as Dennis Quaid), a disgraced cop, when they start conversing over radio waves that somehow connect 2016 with 1996, the year of NYPD Officer Frank Sullivan's cloudy demise.
Raimy, who was 8 at the time, is now a respected detective with a hot boyfriend (Daniel Bonjour) and a loving mother (Devin Kelley), but she still hasn't gotten over what she sees as her father's betrayal of family and the badge. Until, of course, she strikes up a conversation with her old man, and her attempts to rewrite personal history end up having unforeseen and dire consequences (see Timeless and every other story dealing with the "butterfly effect" of altering a timeline).
Of all the many TV remakes this season, the plodding and morose Frequency seems both the least necessary and the most problematic in terms of long-term prospects. But then, I found CBS's new MacGyver unwatchable and it's shaping up to be a Friday night hit. So, as is often the case at this point of a fall season, time will tell.
No Tomorrow premieres Tuesday, Oct. 4, 9/8c, on The CW.
Frequency premieres Wednesday, Oct. 5, 9/8c, on The CW.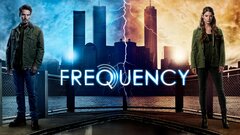 Powered by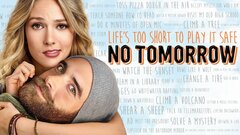 Powered by