In 'Frequency', A Father-Daughter Cop Duo are Separated By a Ham Radio … And 20 Years
According to creator and executive producer Jeremy Carver, The CW's Frequency isn't so much a reboot of the 2000 film by the same name as much as it is a reinterpretation. "The central conceit is there: the ham radio that connects the father and child [played in the film by Dennis Quaid and Jim Caviezel] through time," Carver explains. "But in adapting the movie to exist as a series, certain adjustments were made."
The biggest adjustment? Caviezel's role has been transformed into a female, with Peyton List in the lead role as Det. Raimy Sullivan, whose investigator dad, Frank Sullivan (Riley Smith), was killed 20 years ago when he apparently got in too deep during an undercover operation.
RELATED: The CW Fall Trailers: Frequency, No Tomorrow and the Arrival of Supergirl
The decision to create a father-daughter kinship changed the whole flavor of the show, says Carver, who drew inspiration from female-centered British cop dramas like The Fall and Happy Valley. "It felt more challenging to me," he says. "It seemed like it could be a more dynamic relationship."
"For all intents and purposes, when we meet her, she's pretty happy," List says of her character. Raimy's life, however, gets a major upheaval when she discovers that her father's old ham radio allows her to communicate with him 20 years in the past. "That's insane to someone who is grounded in reality," List says. "Even if she buys into this whole thing, I don't think she could ever have imagined that it would destroy her life to the extent that it does."
Soon Raimy and Frank are working together across decades to solve crimes, changing Raimy's present as their actions impact the past—and getting further and further from the plot of the movie as the series goes on. Carver is confident that Frequency the series can stand on its own. "I think people who watch the pilot do not need to have seen the movie to understand what's going on."
RELATED: The CW President On Supergirl Expectations, Nina Dobrev's Return to The Vampire Diaries, Supernatural
Of course, with the ham radio giving Raimy and Frank the power to rewrite history over and over, one mystery remains: At what point in the show will they change the timeline so much that Raimy turns into Person of Interest star Jim Caviezel?
"I'm hoping in Season 7," List jokes. "It'll give us plenty of time to beg Jim Caviezel to do it!" He does have some free time at the moment.
Frequency, Series Premiere, Wednesday, October 5, 9/8c, The CW.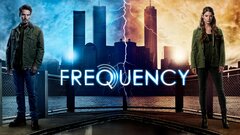 Powered by