'Shooter': Ryan Phillippe is Fired Up to Play a Former Marine Sniper in USA's New Thriller
Stuntmen of the world, beware: Ryan Phillippe just might put you out of a job. On USA's new thriller Shooter, he portrays Bob Lee Swagger, a former military sniper falsely accused of plotting to assassinate the president. There will be plenty of pulse-pounding moments, and Phillippe has no intention of relying on Hollywood magic to convey his heroics.
"There's a scene in the premiere where I have to go off a building—the technical team said it was the highest jump they'd ever seen an actor do," he says proudly. "I have a pretty extensive martial arts background, and I've had lots of weapons training through different projects, but I haven't gotten a chance to do a ton of action. It needed to happen before I got too old!"
With that in mind, it's fair to say that this may just be the role he was born to play, even if he isn't the first to tackle it. The series is based on Stephen Hunter's 1993 novel Point of Impact (there are eight other Bob Lee Swagger tomes in the collection), as well as the 2007 film adaptation starring Mark Wahlberg, who serves as executive producer on the show. "Mark loves this character," says Phillippe, who migrated from teen flicks in the '90s to decidedly adult roles on DirecTV's Damages and ABC's Secrets and Lies. "The fact that he trusted me to take him over really means a lot."
RELATED: Shooter Premiere Pushed to Fall By USA Network
In this incarnation, Swagger is living a quiet life following a career-ending injury suffered while serving with the Marine Corps in Afghanistan. Unlike the film version, this Swagger has an added vulnerability: his wife, Julie (One Tree Hill's Shantel VanSanten), and their 6-year-old daughter, Mary (Lexy Kolker). The added emotional layers—and 10-episode format—should allow for richer storytelling, says Phillippe. "In a two-hour movie, you have to gloss over some of the intricacies and motivations. I saw this as an opportunity to update this story for today."
To prep for the very physical gig on Shooter, Phillippe logged time with members of the armed forces at Marine Corps Base Camp Pendleton in San Diego County. "He was a natural at rifle training," says executive producer John Hlavin (The Shield). "On his second shot, Ryan hit a 12-inch target from 883 yards away. Even the Marines were impressed." And the crash course extended well beyond firearms. "I had no idea how diverse a sniper's skill set has to be," says Phillippe. "These guys can do field surgery, they speak other languages and they know various self-defense techniques."
Not to mention possess a nearly superhuman ability to stay cool under pressure. "If your breathing is not controlled and you don't pull that trigger at the end of your exhale, there's just too much margin of error," explains Phillippe. "The slightest tic matters." Technical adviser Steve Seapker, a retired Marine sniper, has been on hand to relay the importance of mastering stillness, in both the literal and figurative sense. "Ryan and I talked a lot about how you have to be very Zen—it's almost meditative," says Seapker. "We're trying for Bob Lee Swagger to come across as a quiet professional." And Phillippe is nailing it, raves Hlavin. "A lot of this show is about what's going on in Swagger's head. You need an actor who can give you that when the camera's on his face, and Ryan does."
When we first meet Swagger in the pilot, his air of preternatural calm comes easily.After being wounded near Kandahar during a mission gone wrong—he went home with atitanium hip, while his comrade Donny (Rob Brown) died in the field—the family man has settled into a peaceful existence outside of Seattle, hunting by day and telling his young daughter bedtime stories by night.
All that changes when Isaac Johnson (House's Omar Epps), a high-level Secret Service agent, turns up asking for help. "He used to be the captain of Swagger's sniper unit, so they're bonded by a military brotherhood," says Epps. A terrorist has vowed to shoot the president on a designated date, and the United States needs Swagger's expertise to figure out the exact plan and how to stop it. The only catch? Unbeknownst to Swagger, "Johnson is actually a bad guy," reveals Epps. "He's into some nefarious stuff."
Bound by duty, Swagger agrees to research potential vantage points for the strike, unwittingly creating an evidence trail in the process. D-day arrives, and while the real assassin carries out the attack, Swagger finds himself caught in a trap and cornered by Jack Payne (Warehouse 13's Eddie McClintock), yet another government employee in this ever-widening political conspiracy. "Jack's only job," says McClintock, "is to get Bob Lee."
Considering that this all takes place in Episode 1, it's not exactly a spoiler to reveal that Jack is unsuccessful—but it does kick off a chain of events forcing Swagger to go on the run, setting the stage for the rest of the season. "Swagger will have a couple of objectives—first and foremost, to keep his wife and daughter safe," says Hlavin. "His secondary concern is to figure out who the real shooter was and what's behind this bigger conspiracy." (Hint: International heads of state, a senior CIA agent played by Tom Sizemore, Russian mobsters and even the sniper who killed Swagger's best friend will factor into the puzzle.)
RELATED: Shooter: How Ryan Phillippe Prepared to Play a Top Sniper in New USA Drama
Luckily, Swagger will find some allies along the way, including an unlikely one in Nadine Memphis (Arrow's Cynthia Addai-Robinson), an FBI agent assigned to his manhunt. "All the evidence points to Bob Lee Swagger being guilty, but her gut tells her to keep digging," says Addai-Robinson. "She becomes the person on the inside who could help him prove his innocence, if they decide to trust each other."
That's a big if, and there are plenty of surprises to come. Still, Swagger will remain steadfastly virtuous throughout the twisty journey. Considering the recent spate of real-life gun-related tragedies in our nation, highlighting the moral compass of this protagonist seems especially critical. (The series was originally slated for a July premiere, but in light of the mass shootings that occurred over the summer in Orlando, Dallas and Baton Rouge, it was postponed until fall.)
"What we're doing is along the same lines of The Fugitive or The Bourne Identity, where it's very clear from the beginning that Swagger is up against some extremely dark forces," says Phillippe. "This is a fantasy action thriller, with no ties to current events." Its marketing tagline—"Veteran. Hero. Target."—echoes those sentiments. "We wanted to reflect themes of loyalty and family," explains Alexandra Shapiro, NBCUniversal Cable's executive vice president of marketing for entertainment networks. Or as Phillippe puts it, "Our show is called Shooter, but it isn't about guns. It's about an Everyman who's also a hero."
Shooter, Series premiere, Tuesday, Nov. 15, 10/9c, USA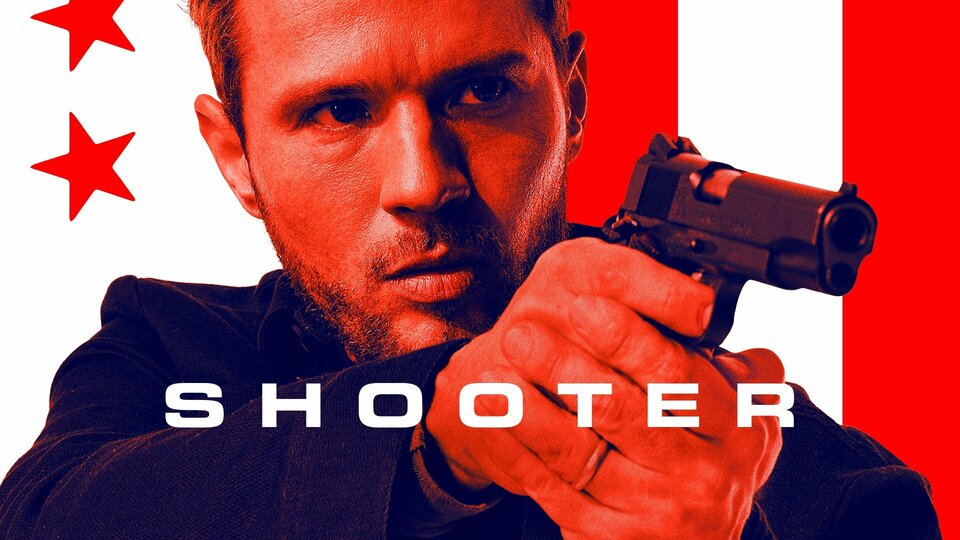 Shooter
where to stream
Powered by