'Shooter': How Ryan Phillippe Prepared to Play a Top Sniper in New USA Drama
Ryan Phillippe (Secrets and Lies) takes aim as former Marine sniper Bob Lee Swagger in USA's new drama Shooter, based on the 2007 movie starring Mark Wahlberg.
RELATED: USA Upfront: New Trailers for Mr. Robot and 2 New Dramas
After learning about a plot to assassinate the president, Swagger is pulled back into duty to prevent the attempt—but instead finds himself in the crosshairs of a larger conspiracy.
RELATED: Ryan Phillippe and Omar Epps to Star in Shooter, a New Series Based on the Mark Wahlberg Movie
To prepare for the role, Phillippe took a number of ballistics courses. "Ryan had a natural affinity for shooting already, but he hit a 12-inch target at 883 yards on his second shot," executive producer John Hlavin says. "Even the Marine snipers who were training him were impressed."
Shooter, Series Premiere, Tuesday, July 19, 10/9c, USA.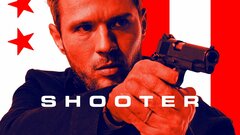 Shooter
where to stream
Powered by