'Shooter' Premiere Pushed to Fall By USA Network
It's been a rough few weeks in this country, given the shootings in Orlando, Minnesota and Baton Rouge, followed by the gunning down of police officers in Dallas last week and Baton Rouge over the weekend. USA Network, realizing that this may not be the best week to premiere a series about a Marine sniper, has decided to push the premiere of Shooter, starring Ryan Phillippe, to the fall.
RELATED: Shooter: How Ryan Phillippe Prepared to Play a Top Sniper in New USA Drama
The show, which was due to premiere on Tuesday, July 19th, centered around a retired Marine sniper who tries to clear his name after being wrongly accused of a crime. The premiere had been pushed back a week after the Dallas shooting, but considering the overall atmosphere of gun violence this summer, paired with the fact that the accused gunmen in the Dallas and Baton Rouge police shootings were former military personnel, the network had to have felt premiering Shooter right now would have been seen as a tone deaf move.
The show's new premiere date is still to be determined.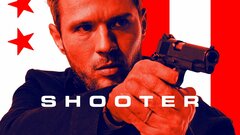 Powered by