Piper Perabo Addresses the Future of ABC's 'Notorious'
Even with the news that came down earlier this week that ABC had cut the episode order for Notorious back from 13 to 10 episodes, it's business as usual for the sexy freshman drama in this week's installment.
In the series, created by Josh Berman and Allie Hagen and based on the real-life alliance between Hollywood lawyer Mark Geragos and Larry King Live producer Wendy Walker, L.A.-based news producer Julia George (Piper Perabo) and lawyer Jake Gregorian (Daniel Sunjata) are pros at spinning the news but suddenly find themselves involved in a high profile murder.
RELATED: Notorious Explores the Relationship Between the Media and Crime
In this week's episode, Julia takes it upon herself to investigate the case of a missing girl that other news programs are ignoring. (See more about that story in the exclusive clip below.) Also, in Perabo's own words, things are going to "heat up" with Julia and new District Attorney Max Gilford (Adam Rayner), which could make Jake finally look at Julia in a very different light.
We talked to Perabo about the episode, and the future of Notorious.
What can you tell us about this episode and Julia's part in it?
A competing show has a story about a missing girl and they're getting really high ratings, so Louise Herrick Live decides to publicize a case of a missing girl that they feel the police are ignoring. What's really exciting about this episode is that you start to see Julia's backstory in investigative journalism. In the past we've seen her in the control room and running the show, but in this episode, because Julia gets emotionally involved, she starts to track down the story herself. You see her starting to engage with the players and trying to figure out what's going on so you see a really different side of Julia.
It's interesting when you look at who the news decides to talk about and who they don't cover. I thought it was really cool that in Notorious we're looking at those discrepancies in news and talking about them and you hear the behind-the-scenes conversations of how they decide on which person they're going to cover. One of the reasons why I'm always excited about Notorious is that you get to see those behind-the-scenes look into a newsroom.
There seems to be quite a spark between the new D.A. and Julia.
Things with the new D.A. are going to heat up. I was really excited when they cast Adam Rayner because I think he's such a good actor and a really good foil to Daniel Sunjata. They're both very strong, very smart, very smooth operators so it's going to get heated pretty quickly.
For the fans who want to see Julia and Jake move into a more personal relationship, might we start seeing that develop?
I think what's interesting about bringing the D.A. in and the kind of spark that happens when Julia meets him is that it makes Jake have to take a position on Julia. Since the pilot, Julia has been single, she broke up with her boyfriend so I feel like in a lot of real life scenarios, if the girl is single and around all the time you don't always notice her until some new guy sweeps in. So Jake is going to have to confront how he's feeling if he wants to get in the way of the D.A..
Step up, Jake!
Step up, Jake!
We heard the news on the reduced episode order of the show, so what would you say to viewers who want more Notorious.
Well, for fans that are watching, I'm literally on the set on my lunch break so we're filming still and we're going to finish 10 episodes. What the network is saying is that there are so many great dramas on ABC and they're trying to decide which way they're going to go. Our crew and our cast are really passionate about our show. I feel like we're a really good fit at ABC. I love this show and I love the people that I'm making it with, so hopefully what they're going to see in the next few weeks is that our ratings stay strong and then they'll bring us back to work. We're just going to throw drop cloths on things for a minute and see what happens.
Check out this exclusive clip from this week's episode:
Notorious, Thursdays, 9/8c, ABC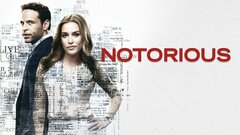 Powered by