'Notorious' Explores the Relationship Between Media and Crime
The legal system and the media have long made for exciting bedfellows, thanks in part to behind-the-scenes manipulation of the public—and each other. In ABC's Notorious, the alliance between TV producer Julia George (Covert Affairs' Piper Perabo) and Hollywood lawyer Jake Gregorian (Graceland's Daniel Sunjata) is tested when one of Jake's cases escalates to murderous proportions, and Julia, like any good TV producer, digs in. They've made a pact not to lie to each other, but how long can that last?
RELATED: More Scoop on Fall Shows
"It's definitely a challenge," Perabo says with a laugh. "She never lies to his face. That's all I can hold her to so far." Sunjata agrees that this balance will be tough to maintain: "When it works in their best interests, they're willing to go with it. They only ever butt heads when their interests are diametrically opposed." Expect that to happen frequently.
As for a potential romance between these two, creator Josh Berman was very pleased with feedback he was getting when shooting began. "The crew members on set during the pilot were coming up to me and saying, 'When are they going to kiss?' So I knew that there was something magical there. I absolutely want the viewers to want them together."
Notorious, Series Premiere, Thursday, September 22, 9/8c, ABC.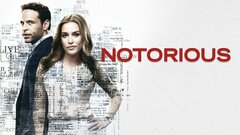 Powered by