Roush Review: A Solid 'Pitch', Toxic 'Notorious'
The question arises before the first throw: Will Pitch do for baseball drama what Friday Night Lights did for football? Maybe, in the sense that both are underdogs, bucking formula trends in network TV by asking us what happens to compelling characters on and off the field.
As sports fictions, they couldn't be more different. Friday Night Lights used the culture of Texas high-school football to tell deeply personal stories about everyday people in an America rarely shown on TV. And while Ginny Baker (the terrifically focused Kylie Bunbury) comes from modest roots in rural North Carolina, as we witness in evocative flashbacks, she's anything but ordinary. Her media handler (a brittle Ali Larter) describes Ginny as "the most important woman on the planet … This is Hillary with sex appeal. She is a Kardashian with a skill set." She is, in other words, a very high concept: the first female athlete to break into baseball's major leagues.
More Roush Reviews: See What Matt Thinks About Other Shows
Major League Baseball is so on board with this show they've loaned Pitch the use of an actual team's name and logo (the San Diego Padres) to tell Ginny's story. And it's an inspirational, aspirational tale for sure, tracing her evolution from childhood to college sports to Triple-A, always with her father-mentor (Michael Beach) coaching her, goading her, telling her after every triumph, "You ain't done nothin' yet."
The jam-packed, entertaining pilot thrusts us immediately into the sensory overload of Ginny's world after being called up to the majors. Like Michael Phelps before a big swim, she isolates herself with music on her earphones, trying to shut out the deafening media din and the legion of young fans who want to grow up to be just like Ginny. (If they saw her complain to her dad how she feels like "a robot in cleats," they might think again.)
As you'd expect, her arrival isn't an automatic home run—especially not with the team, which resists what they see (perhaps not incorrectly) as a publicity stunt. Team leader and star catcher Mike Lawson (a very likable Mark-Paul Gosselaar) tries his best to treat her like one of the guys, including treating her to his trademark ass slap, but the stakes are just too high.
We'll let you see for yourself how Ginny performs on the mound, but Pitch doesn't choke in the big moments—although the schmaltzy influence of executive producer Dan Fogleman is evident in a reveal that reminds you this is coming from the same guy who gave us NBC's tear-jerking (and fresher) This Is Us earlier this week. The show's bigger problem is that Ginny's arc feels like something more suited to a movie or limited series than an ongoing weekly drama. Because the first inning is so strong, I'll give this the benefit of the doubt. It's the seventh-inning stretch that has me worried.
RHYMES WITH RHIMES: You may have heard that Scandal is sitting out the fall because of star Kerry Washington's pregnancy. This is also the stated reason behind ABC shelving its "TGIT" branding until Scandal's return, thus restoring a full night of Shonda Rhimes-produced high/low melodrama. But I suspect that once the powers that be got a good look at the terrible show filling the Scandal void, which goes by the name Notorious but will be heretofore referred to as Ludicrous, they figured no one would be thanking them for assaulting us with this cynical drivel.
RELATED: Notorious Explores the Relationship Between Media and Crime
Inspired by the real-life experiences of an actual TV-news producer and celebrity lawyer, who shall go nameless here out of a desire not to give them any more publicity, Ludicrous is the worst sort of Shonda clone, featuring glamorously oversexed and annoyingly hyper-verbal characters who wear out their welcome even before we get to know them. Piper Perabo is news producer Julia George, a cutthroat dynamo who "decides what the country talks about," according to her fawning aide. She spars but secretly colludes with famed L.A. lawyer Jake Gregorian (Daniel Sunjata), a smug lug in a suit who orchestrates his scoops with Julia in staged confrontations that shatter any notion of journalistic and legal ethics or dramatic credibility. "Sounds like good TV to me," he smarmily gloats.
It's not.
When one of Jake's high-profile clients, a young and reclusive Internet tycoon, is caught in a murderous (wait for it) scandal, the preposterous twists pile up in record time as Jake and Julia manipulate each other, the truth be damned. "The show always comes first, right?" coos Julia's campy cougar of a TV-star host, Louise, played with theatrical zeal by Kate Jennings Grant in what may be the show's most thankless role, although there's plenty of competition.
Actually, Ludicrous is too kind a word for this overheated nonsense. Think Toxic.
Pitch premieres Thursday, Sept. 22, 9/8c, on Fox.
Notorious premieres Thursday, Sept. 22, 9/8c, on ABC.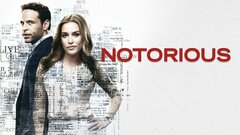 Powered by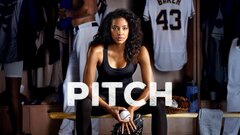 Pitch
where to stream
Powered by