'Brooklyn Nine-Nine's Halloween Heist is On! (VIDEO)
As if the precinct doesn't have enough crime to fight, the Brooklyn Nine-Nine squad is adding to their load tonight with the annual Halloween Heist event, which has become one of the comedy's craftiest traditions.
RELATED: How the Brooklyn Nine-Nine-New Girl Crossover Came Together
"Let's unleash Hell," declares Holt (Andre Braugher) in this exclusive clip from the episode that sets up the three-way competition to capture a coveted plaque…and the right to brag about being the Ultimate Detective/Genius.
Honestly, we're not sure what is scarier this Halloween: Holt picking the chronically clueless Boyle (Joe Lo Trulio) to be on his team or the idea of Jake (Andy Samberg) being able to find Boyle's even stranger doppelganger.
Brooklyn Nine-Nine airs Tuesdays at 8/7c on Fox.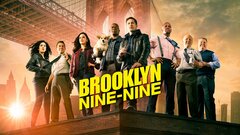 Powered by