How the Brooklyn Nine-Nine-New Girl Crossover Came Together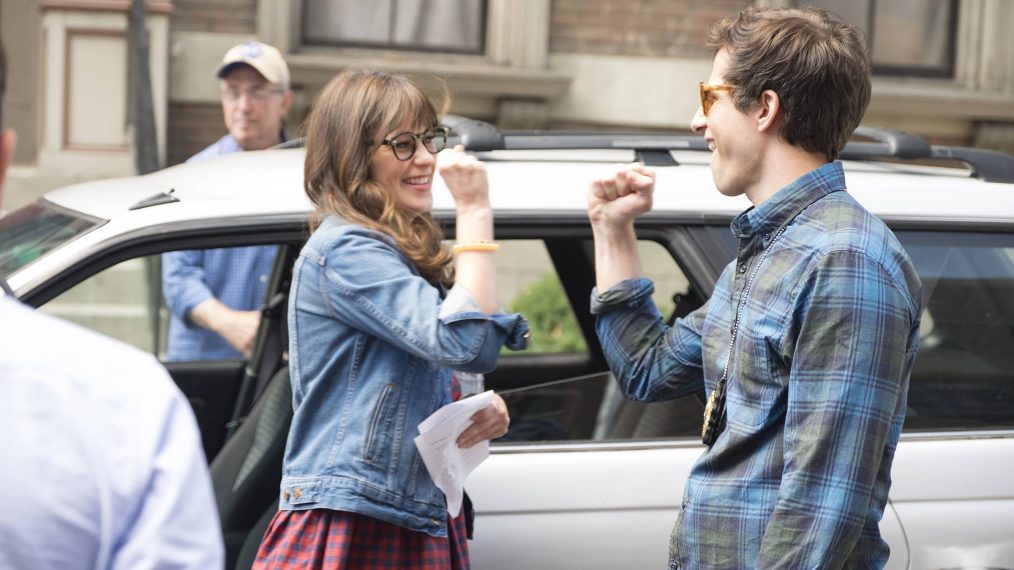 Courtesy of Fox
Brooklyn Nine-nine and New Girl crossover. Zooey Deschanel and Andy Samberg.
There's a New Girl in New York when Brooklyn Nine-Nine kicks off a two-episode crossover with its fellow Fox-com. "The biggest thing was [logistics]," says Girl executive producer Dave Finkel. "Nine-Nine takes place on the East Coast, but our show takes place on the West Coast, so we had to figure out who was going where."
RELATED: New Girl Cops a Brooklyn Nine-Nine Crossover

Thankfully, both shows were given a few months to prep the stunt, which is set in the Big Apple. On B99, Det. Jake Peralta (Andy Samberg) runs into New Girl's Jess (Zooey Deschanel, above, with Samberg), who's in Brooklyn with the gang to see Schmidt (Max Greenfield) honored at his old high school. Then the action shifts to Girl, where Jess winds up working a case with Jake—and working his colleagues' nerves—as Nick (Jake Johnson) and Winston (Lamorne Morris) encounter Nine-Nine's Boyle (Joe Lo Truglio) in the subway.
Since the shows have separate writing teams, collaboration was key, says New Girl executive producer Brett Baer. "We worked hand-in-hand to make sure the material really spoke to all of these characters."
Brooklyn Nine-Nine and New Girl Crossover, Tuesday, October 11, 8/7c, Fox