What Villains are Dominating the Arrowverse's Mega Crossover?
When you are planning a four-show crossover event featuring more costumed superheroes than a Comic-Con bathroom line, your garden-variety villain just ain't gonna do. So The CW's Arrowverse has taken a deep dive into DC Comics lore for the baddies who will be central to the upcoming mega-mashup of Arrow, The Flash, Supergirl and DC's Legends of Tomorrow.
"This year, for our mega Arrowverse" crossover, we're taking inspiration from a DC crossover from the late 1980s known as Invasion!, which featured an alien race called the Dominators, who'd previously vexed the Legion of Super-Heroes," says Arrow and Legends exec producer Marc Guggenheim of the multi-issue storyline featuring grotesque space ogres out to build an army of metahumans. "We're using cutting edge prosthetics and computer effects to achieve a feature film-quality look which is faithful to Invasion! artist Todd McFarlane's interpretation of the characters."
RELATED: DC Comics TV Updates: Musical Crossover for The Flash and Supergirl, Plus Arrow and Legends News
The Invasion! tale, penned by Bill Mantlo, also introduced the concept of the "metagene" that was linked to how some characters developed their superpowers of the DC Comics universe. If that key plot point is kept intact, we could quite possibly see some big changes for the normal folks hanging around Kara Danvers (Melissa Benoist), Barry Allen (Grant Gustin), Oliver Queen (Stephen Amell) and company.
The Arrow–Flash–Supergirl–Legends crossover is slated for December, which honestly can not get here fast enough. Agree?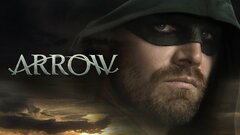 Arrow
where to stream