'Scorpion' Counts Down to an Explosive Season Finale
In the last year, the members of Team Scorpion have endured a raging F4 tornado, a devastating Southern California earthquake and a perilous whiteout blizzard—all in the name of preserving national security. But as the season finale of Scorpion approaches, the missions for the group of geniuses become nuclear, both literally and figuratively.
In the April 18 episode, the action begins in Ukraine at the site of the Chernobyl disaster, which the show replicated on Cal Poly Pomona's campus, about 25 miles east of downtown Los Angeles. Members of the production team attach a series of wires to stars Elyes Gabel (Walter O'Brien) and Katharine McPhee (Paige Dineen) and lift them a few feet off the ground above a green-screen platform. When the director calls "Action," the actors scream and squirm to simulate a rapid descent from the radiation-infested power plant.
"It's a normal day out of the office," Gabel says with a laugh. "We don't get the harnesses as much anymore because we're trying to nurture health within areas of our body. It takes a while to recover from the wires, especially from a male perspective."
RELATED: Scorpion Shippers Rejoice! Eddie Kaye Thomas and Jadyn Wong on What's Next for Quintis
No one said saving the world would be easy. That's especially true as the gang attempts to repair the failing reactor before another nuclear disaster occurs. But one member is conspicuously missing on the Eastern European trek: wise-cracking behavioral psychiatrist Toby Curtis (Eddie Kaye Thomas), who is in the States testifying at the competency hearing for Mark Collins (Joshua Leonard), the troubled ex-member of Scorpion who was committed to a mental institution after jeopardizing a mission in Season 1.
When Collins feels betrayed by his former colleague, he kidnaps Toby, leading the others to embark on their most challenging and personal rescue operation yet in the April 25 finale. "It's genius against genius," Gabel says. "Normally we're uncovering something in an intelligent way that other people can't do, but now we're fighting against ourselves because [Collins] was effectively a part of our cell. We've got to find another way of outwitting him, so the stakes are higher."
The stakes are also huge for the relationship between Toby and mechanical engineer Happy Quinn (Jadyn Wong). After a season and a half of "will they/won't they" tension, the duo made their romance official in February, and Toby is on the verge of popping the question to his girlfriend before he's nabbed by Collins. "The prospect of losing Toby becomes losing a part of herself [for Happy], as with any real love or partnership," Thomas says.
"When it comes to these life-and-death situations, it forces Happy to confront the reality of what Toby means to her," Wong adds. "It's only going to deepen their relationship if he makes it through."
Uncertainty also surrounds Walter and Paige, especially as her romance with Homeland Security trainee Tim Armstrong (Scott Porter) deepens. Walter even encourages his star-crossed love to be with Tim, giving them tickets for a weekend getaway in Tahoe. "Walter has his moment to be a knight in shining armor. The 'Waige' relationship is always existing in someone's heart, but she's resolved to the idea that she and Walter aren't a thing," McPhee says. "Her feelings for Walter are a bit dormant, and at this point, he would need to instigate something because [so far] she's been more of the instigator."
Producers promise major developments for both duos by the end of the season. "There are a few great relationship twists people will simply never see coming," vows executive producer Nicholas Wootton. Adds executive producer Nick Santora, "Something pretty wild happens between Toby and Happy that will lead to a huge cliffhanger. Their romance gets blown up in a big way."
RELATED: CBS Renews Scorpion , Elementary and Nine Other Shows
Whether it's blowing up relationships, buildings or cars, Scorpion found a way to get even more explosive in Season 2. "We learned last year what our parameters were and we learned this year that we could push them," Wootton says. The producers even killed a key character when Walter's sister, Megan (Camille Guaty), succumbed to complications from her multiple sclerosis. While Megan's death affected the team as a whole, it had the deepest impact on mathematician Sylvester Dodd (Ari Stidham), considering the two married just days before she passed. "That set him up on a very fertile ground for personal growth," Stidham says. "He knows how to manage more of his fears now. Megan's spirit is still very much a part of my character and why Scorpion exists."
As the cast prepares for a third season (the series has already been renewed for fall), Stidham hopes to see more missions of a personal nature. "We could have some cool episodes regardless of how big the disasters are," Stidham says. "If you can't go outward, you've got to go inward."
Scorpion, Mondays, 9/8c, CBS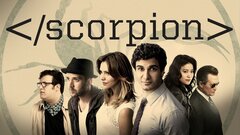 Powered by