Emmys 2016: Rami Malek Grabs First Emmy For 'Mr. Robot'
Beating fellow nominees Liev Schreiber, Bob Odenkirk, Kyle Chandler, Matthew Rhys and Kevin Spacey, Mr. Robot star Rami Malek was as surprised as anyone with his win at the 68th Primetime Emmy Awards in the Outstanding Lead Actor in a Drama Series category.
"I'm pretty elated, I have to say," Malek admitted backstage after his win for the USA tech drama. "This is a moment that obviously will be etched in my memory and if it's not I think I can replay it on the television set every once in awhile, but I'd probably feel ridiculous for doing that so I won't."
RELATED: Tatiana Maslany Scores First Emmy Win for Orphan Black
Saying that he's not the typical leading man type, Malek said, "I think it speaks a lot about where we're headed and I think we can just keeping going further in that direction, obviously not just limited to entertainment but socially and politically to continue and strive to be as progressive as possible."
RELATED: The Full List of 2016 Emmy Winners
Of the challenges he faced playing his character's mental illness, the actor said his ultimate goal was to reflect what mentally ill people truly experience. "I read a couple books and then I sought out a therapist." He relentlessly asked questions and the therapist listened, offering answers. "Ultimately I didn't want my performance to suffer, but moreover I didn't really want anybody to feel that I was doing them a disservice or injustice with a performance that wasn't accurate."
RELATED: More Emmys Coverage
The second season of Mr. Robot comes to a close this Wednesday, September 21, and Malek says he's already shot a scene for Season 3.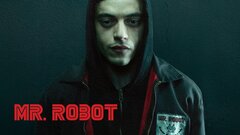 Powered by