'Mr. Robot': Rami Malek, Christian Slater and Company Weigh In On Season 2
It's an early spring morning in Brooklyn, and progress on Season 2 of Mr. Robot has ground to a halt. The reason? Technical difficulties—in this case, a rogue cable—which is fitting, considering that USA's zeitgeisty drama centers around technology and connectivity as seen through the lens of troubled millennial cyberwhiz Elliot Alderson (Rami Malek).
Once shooting has resumed, a small army of marketing and ad execs file in to observe, looking more like the dazzled fans that make up the series' cult following than jaded network suits. Malek spots them—in stark contrast to his broody, internal character, he is quick to engage—and cracks a joke. "Have you heard of our show?" he says with a sly smile. "We're filming the murder scene today."
He was kidding, naturally, as around here, secrets are guarded with outsize ferocity. Not that any plot point, however dark, is off the table. In Season 1, Elliot led fsociety—a group of underground hackers that includes his sister, Darlene (Carly Chaikin)—in the digital invasion of E Corp (better known as Evil Corp), an all-powerful conglomerate. Like code-writing Robin Hoods, they compromised the servers and erased vast quantities of consumer debt, unwittingly contributing to multiple deaths in the process.
The premiere picks up 30 days later, with the financial infrastructure suffering from a multi-gigabyte hangover. "The banking and credit system are at a standstill, and it's a cash economy," creator Sam Esmail says. "E Corp's network is down and unusable. We'll see what happens when the services that we rely on every day begin to fall apart."
At least we had fair warning. In the closing moments of Season 1's finale, Whiterose (BD Wong), an inscrutable transgender hacker, made an ominous reference to Rome burning. "Absolutely, that was foreshadowing," confirms Esmail. "We're dealing with today's Rome."
Still, it's worth noting that while Mr. Robot clearly takes aim at corporate greed and the one-percenters, its core message extends well beyond the realm of Occupy Wall Street. "A lot of what drives people to revolution is anger and frustration with where society is, and the issue of our day is wanting to connect with each other and feeling like we can't," Esmail says. "The No. 1 thing this show is about is loneliness."
For Elliot, that sense of isolation is at an all-time high now that he's made the shocking discovery that Mr. Robot (Christian Slater) is not, in fact, the fsociety mastermind but the anarchist spirit of his dead dad—a figment of his own damaged imagination who's been bossing him around for heaven knows how long. "There's a lot of turmoil as he tries to come to terms with the reality that he and Mr. Robot are the same person," Malek says.
RELATED: Mr. Robot, The People v. O.J. Simpson and UnREAL Lead TCA Award Nominations
In an effort to muzzle his overbearing alter ego, Elliot has decamped from Manhattan's Lower East Side to Queens, where he's living in self-imposed exile—tech and otherwise—with his mother (Vaishnavi Sharma). "She set strict boundaries for him as a child, and he feels he needs to return to that regimentation," Malek says. "He's creating routines designed to keep Mr. Robot from infiltrating his world." (Cast additions Craig Robinson of The Office fame and rapper Joey Bada$$ become his new cohorts.)
How will Elliot fare in his bid for psychological autonomy? "They definitely go back and forth on who's wearing the pants," says Slater, hinting that hell hath no fury like a Mr. Robot ignored. "There's no way my character is ever going to be happy on a leash."
As if that weren't taxing enough, soon Elliot could be fighting for a different type of freedom when FBI agent Dom DiPierro (Grace Gummer) begins investigating the hack. "Right out of the gate, she makes it her life's mission to find answers," Gummer says. And as with most players in this twisty universe, Dom has some major surprises up her sleeve. "She's a little messy, nutty and very friendly," Gummer says.
The same can be said for Angela (Portia Doubleday), Elliot's crush and lifelong pal—both had a parent killed as a result of E Corp's nefarious business practices—settling into her PR role for the company that she vowed to take down. "You don't know from episode to episode whether she's been seduced by the dark side," Doubleday says. "She's going to have a huge turn this season—everything I guessed would happen was wrong."
Much of Angela's journey will place her at odds with her former ally Darlene, who has stepped in as the head of fsociety in her brother's absence. "Darlene is very extreme—a ride-or-die kind of girl," Chaikin says. "But as she witnesses the consequences of her actions, she'll be battling between right and wrong."
RELATED: USA Network Sets July Return for Mr. Robot
As for fsociety's next big target, viewers will have to recalibrate expectations. "It's not going to stick to a procedural formula, like 'What's the new hack they have to do?'" explains Esmail, who, in a rare feat for TV, is directing every one of this season's 12 episodes. "This story was first conceived as a feature film, and we're going to follow that original structure. I look at it as if we're heading into the second act."
So far, trusting his gut has served Esmail well. Mr. Robot has already collected multiple awards (including a Golden Globe for best drama) and is garnering comparisons to acclaimed momentum-builders like Breaking Bad. But you'd never know it from the self-effacing banter going on behind the scenes between Esmail and Malek. One recurring bit: adopting fake personas to trade tepid reviews. (Says Malek, "I enjoyed the first few episodes of Mr. Robot." Counters Esmail blandly, "It's OK.")
When asked later why they're busting each other's chops in the face of inarguable success, Malek turns circumspect. "We're very self-deprecating, because this is precious to us, and we acknowledge where we're at—so we diffuse the pressure by knocking ourselves off the pedestal," he says. "Something like this doesn't happen often, and it can be taken away in a heartbeat." Or in this case, a keystroke.
Mr. Robot, Season Premiere, Wednesday, July 13, 10/9c, USA.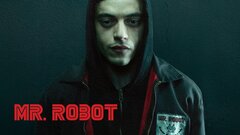 Powered by