'Dirk Gently's Holistic Detective Agency': New BBC America Series Interprets Douglas Adams's Crazy Mysteries
We'll just say it: Only a nutter would want to adapt Douglas Adams's 1987 mystery novel Dirk Gently's Holistic Detective Agency and its sequels for the screen. Book 1 alone features a time machine, an alien poltergeist, an electric monk, a lost cat and a cameo from poet Samuel Coleridge. You need basic knowledge of quantum mechanics, classical music, the British collegiate system and how to make computer spreadsheets to understand its themes. And the plot doesn't unfold in chronological order.
RELATED: What's With All the Corgis? Creator Max Landis Answers Our Biggest Dirk Gently Question
Yet writer Max Landis (son of John) and BBC America are giving it the old Cambridge college try with this eight-episode series starring Penny Dreadful's Samuel Barnett as detective Dirk and Elijah Wood as his perennially puzzled sidekick, Todd. (The BBC proper made its own adaptation in 2012, featuring Episodes' Stephen Mangan.)
Here, Dirk may be slicker, thinner and leather jacketed, but he's still off the beaten path. For one, he doesn't believe in clues. Rather, he relies on "the interconnectedness of all things." Translation: Stumble around until you bump into the bad guy. "Dirk's not a very good detective," Barnett says. "He follows his instincts and intuition, ultimately solving cases but not without causing chaos. He gets into a tremendous amount of trouble and constantly needs saving."
RELATED: BBC America Introduces Dirk Gently's Holistic Detective Agency and Class
That's where Todd comes in. Now, he's not a character taken directly from the books—in fact, no one but the gumshoe is. That's where the creative team went rogue. How very, very Dirk of them.
Dirk Gently's Holistic Detective Agency, Series premiere, Saturday, Oct. 22, 9/8c, BBC America.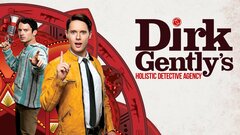 Powered by