'Dirk Gently's Holistic Detective Agency' Finale Preview: Fiona Dourif on a 'Despondent' Bart (VIDEO)
Everything is connected, right? That's what dynamic duo Dirk (Samuel Barnett) and Todd (Elijah Wood) discovered, for real this time, on Dirk Gently's Holistic Detective Agency. In last week's penultimate episode of the first season of the BBC America series, all the pieces of the Patrick Spring (Julian McMahon) murder puzzle finally came to light.
We now know that Spring was a time-traveling vigilante, formerly known as Patrick's ancestor Edgar Spring and centuries-old inventor Zachariah Webb, and that all Patrick was trying to do is save the life of his daughter Lydia (Alison Thornton), who is presently trapped in the body of a corgi. We also know that Dirk and Todd are stuck in a time loop with Patrick and have now traveled back to see the morning of the murder (which involved two Patrick Springs and a fierce kitten-shark), and were unable to stop the grisly killing from repeating itself. On top of that, things didn't end up so well, as Dirk and Todd wound up injured on the floor of the transfer unit with the evil body-swapping hippies surrounding them by the end of the episode.
While the body-swapper in charge, Gordon Rimmer (Aaron Douglas), and this cronies Ed (Christian Bako), Ned (Paul Lazenby) and Zed (Michael Adamthwaite) pose a very imminent threat to Dirk and Todd, they're not all that's waiting for them in this final chapter. (The series has been renewed for Season 2.) Will we learn more about Project Blackwing, the secret government design where Dirk and the crazed group of chaotic men (who may not even be human) the Rowdy 3 came from? Will Todd make amends with his sister, Amanda (Hannah Marks), who he's been lying to for years about having the same disease as her? What other badass things will we see Spring's bodyguard Farah (Jade Eshete) do on her quest to rescue Lydia?
We've also yet to see the end of holistic assassin Bart (Fiona Dourif), another Blackwing prodigy, and her hacker pal Ken (Mpho Koaho), who were sidelined by Bart's injuries last time we saw them. Will the shock of getting hurt keep the ruthless killer from continuing her mission to kill Dirk? We spoke to Dourif about Bart's plans, her character's relationship with Ken and more about this week's bonkers finale.
Here's the #DirkGently season finale trailer. Don't panic, the actual episode will be longer. https://t.co/TrKU9SJZoW

— Dirk Gently (@DirkGentlyBBCA) December 8, 2016
The last time we saw Bart, she was in a lot of pain. For the first time in her life, she has learned that she isn't invincible. Where do we pick up with her in the finale?
We pick up with a despondent and confused Bart. Her reality has been shattered and she needs a friend to help her figure out what to do next.
And she has that friend in Ken. It's been so great to see that relationship grow over the series. What does Bart bring out in Ken and vice versa?
Bart brings out a sense of adventure [in Ken] and helps him to feel less trapped. He feels important and he's taking the bull by the horns now. He was a very bored, depressed computer programmer type-guy and here Bart comes along and shows him there's a little bit of magic in the world. For Bart's relationship with Ken, it's pretty clear. She thinks that her life is meaningful and that she's doing destiny's work, but she's really lonely. People don't want to be around her. There's never really been anybody who teaches her how to fit into society in any way. Bart's pretty scary, so it was nice for her to find someone who she's not supposed to kill and who wants to be around her. It's something she's thought about for years. I think of Bart as really vulnerable.
What's the hardest thing about getting into Bart? How do you get into her mindset? Even her voice is very different from yours.
When I first got the audition I was like, 'There's no way I'm going to be able to do this,' because they were like, 'Think of it like Jack Sparrow and Beetlejuice,' a character like that. So it took me awhile to ground it, and I think the thing that was the most time-consuming was figuring out that I needed to know exactly what Bart's life is like. For each thing that she says or refers to, there has to be a specificity to it. Max [Landis, the show's creator] would throw these lines out to me. Some of them didn't make it in the series, but the most particular one is when Bart is tied up on the stake, Ken tells her to prove that she's doing the bidding of the universe and she says, 'The Oyster Monster's in the middle of the ocean, I ain't got nothin' to prove.' I spent a long time figuring out exactly what the f–k that means.
So what's going on in this clip (below) with Bart and Ken?
I think that Bart's really scared and she doesn't know what's going to happen now. Her faith in reality has been shattered and it's all very scary and she's thinking that maybe it might be better for her to stay in the hotel room. Ken has different ideas.
Check out the exclusive clip below to see Ken and Bart's heart-to-heart.
What is Bart's role going to be in this final episode? What are we going to see happen when she leaves the hotel?
Bart and Ken are back on a mission to find Dirk Gently, and Dirk and Bart meet again. And then literally all hell breaks loose.
Is she more in the mindset of, "Shoot first, ask questions later" when she finds Dirk again?
Absolutely, always. Shoot first, 100 percent. It's very difficult for her to ask questions first. It's confusing and Bart generally doesn't know what other people are talking about, but she does know that she is a force of nature and that nature is good. So she trusts in that.
Are we going to learn more about Blackwing?
Dirk and Bart will learn more about their connection to each other.
We get to see Bart discover a lot of normal things throughout the series, like commercials and the radio. What was your favorite of those moments?
I think it was the Chinese food. I loved that scene. I ate a lot of Chinese food while shooting that scene. I also loved the shower. I loved that she drank the shampoo because there was fruit on the bottle, which I actually drank. It was disgusting. I want to say it was like Pert Plus or something.
Is there anyone in the Dirk Gently universe that you think could best Bart?
Absolutely not, that's f–king hysterical. I truly don't think so. You know, the Rowdy 3 and Bart would be an interesting face-off.  They're both forces of nature, but they operate differently. The Rowdy 3 don't kill things. They're like the wind and Bart's like the funnel in a tornado, you know? But seeing them come together would be interesting. 

Do you have a favorite moment from the finale that you can tease?
We'll see some members of Blackwing again, which is cool. Also, my last scene is a shot of Bart that I got to see in ADR, that I can't spoil, but I nearly dropped to my knees. It's the coolest thing, I feel like I won the lottery. I can't believe I get to be in that scene and this show.
Dirk Gently's Holistic Detective Agency, Season finale, Saturday, Dec. 10, 9/8c, BBC America
(And the full season is now available on VOD, BBCAmerica.com and the BBCA apps.)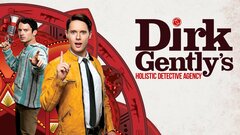 Powered by