What's With All the Corgis? Creator Max Landis Answers Our Biggest 'Dirk Gently' Question
If you've read Douglas Adams's 1987 sci-fi novel Dirk Gently's Holistic Detective Agency, you know there aren't any corgis in it. A horse, yes. A lot of Schrödinger's Cat mentions? Yup. But no furry dogs with stubby legs are seen running around in the vast universe Adams created.
However, if you've seen any previews or promotional content for BBC America's upcoming series based on the novel, which premieres on October 22, it's a completely different case. A corgi is frequently cradled in the arms of stars Elijah Wood (playing punk rocker Todd) or Samuel Barnett (playing Gently), and mentioned in nearly every trailer. At New York Comic Con, BBC America handed out corgi pins, and the cast took the stage at Madison Square Garden for their panel each with an adorable pup on a leash.
RELATED: Dirk Gently's Holistic Detective Agency takes on New York Comic Con
Is this just a marketing ploy because corgis are beloved and adorable? Probably. Though when we spoke to creator Max Landis at New York Comic Con earlier this month, we got a feeling that there may be something more going on here.
"I needed a type of dog that would be easy to carry while running and that was small and felt helpless," he explains. "It's role in the plot required something that you'd look at and go, 'God, I hope no one shoots that with a gun.'"
Well aside from the bonkers requirements in picking a breed, Landis went on to tell us about the character the corgi is playing. Yes, you read that right.
"When you read the Dirk Gently books there are a lot of animals mentioned," Landis says. "There is a cat on our show as well. Without any spoilers, both our corgi actor and our kitten actor are actually playing different characters. Neither of them are playing the corgi or the kitten. We don't judge by physical form in my casting, so as the season goes on you'll discover that these animal actors are actually portraying different characters."
We'll leave you to decipher that for yourselves, and suggest you check out the trailer below for more Dirk Gently craziness.
Dirk Gently's Holistic Detective Agency, Series premiere, Saturday Oct. 22, 9/8c, BBC America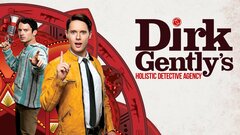 Powered by