'Incorporated': New Syfy Series Envisions a Corporate-Ruled America
In the not-so-distant future of Syfy's dystopian thriller Incorporated, huge militarized corporations rule after climate change has ravaged Earth and led to the collapse of government. The United States is now divided into two vastly unequal groups: Those who have good corporate jobs enabling them to live in the luxurious Green Zone, and the Red Zoners, who do menial work or hustle for a buck in violent, drug-ridden slums.
RELATED: Syfy Casts One El of a Krypton Lead
"This is a suspenseful story that holds up a light to systemic problems in a world of growing income inequality," says Ted Humphrey, an exec producer along with Ben Affleck and Matt Damon.
The action begins when Ben Larson (Sean Teale), a rising star at the food-products giant Spiga Biotech, believes he spots Elena (Denyse Tontz), a woman from the Red Zone he has loved since childhood. Freeing her from sexual slavery is the sole reason he created a new persona and infiltrated Spiga years earlier, including marrying Laura (Allison Miller), the daughter of powerful high-level executive Elizabeth (Julia Ormond). He must avoid Julian (Dennis Haysbert), Spiga's fearsome head of security, an ex-military man who takes his job enforcing the company's draconian rules very seriously.
RELATED: Syfy Plots the Returns of The Magicians and The Expanse
"The question is how far Ben will go and how many transgressions will he commit to save Elena," says Humphrey. "How many lives around him will he be willing to ruin, including that of the wife that he may have fallen in love with?"
Incorporated, Series premiere, Wednesday, Nov. 30, 10/9c , Syfy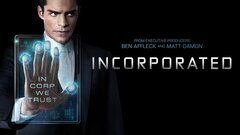 Powered by