'You're the Worst' Cast, Creator Share 6 Things to Expect in Season 3
For most television couples, an "I love you" is a momentous, happy relationship milestone. However, most TV couples aren't You're the Worst's Gretchen (Aya Cash) and Jimmy (Chris Geere): In the aftermath of his accidental (drunken) confession, the duo push-pull over the validity of the statement and where they go from here.
However, that relationship is far from the most dysfunctional one on the FXX comedy, as a pregnant Lindsay (Kether Donohue) finally managed to reunite with Paul (Allan McLeod), only to instantly regret her decision.
At least Edgar (Desmin Borges) is in a good place—he and Dorothy (Collette Wolfe) are rebounding nicely after nearly moving in together prematurely.
And with Season 3, some big changes are in store: Gretchen is going to therapy, Jimmy finally catches a work break, Edgar is asserting himself, and Lindsay is taking a dark turn. The cast and creator Stephen Falk share six things to expect this year.
First comes love, then comes…?
Very little of Jimmy and Gretchen's relationship has been traditional, but "I think they both noticed they've taken the next step, and that's as scary as they thought it would be," Geere notes. "This is about that judgment of them recognizing they are at that next level. Continually learning things about each other—except the things they're learning about each other aren't necessarily nice or hygienic."
"I also feel like the issue of what 'I love you' means to different people comes up," Cash adds. "Sometimes 'I love you' means commitment; 'I love you' means forever—it depends on what your definition of 'I love you' [is]. They have to negotiate what their definition of 'I love you' is, just like they've had to negotiate everything else."
RELATED: You're the Worst Boss on the Season 2 Finale
Therapy isn't the magic fix Gretchen was hoping for.
Gretchen struggled with her depression last season, before ultimately opting to take care of herself with therapy and medicine. But her expectations are a little out of touch with reality. "She's like, 'Just fix it,'" Cash says. "I don't think she thinks, 'Oh, I have to be open and vulnerable.' She's like, 'Okay, I showed up.' It's like buying gym shoes and thinking you're going to lose weight. 'But I bought the shoes! I bought the membership to the gym!' That's how she treats therapy."
The second season, especially Gretchen's arc, was widely praised. And though they went darker last year, there was a "desire to try and bring a little more levity into the series," Falk says. "Not that anyone was asking us to, but just because when you're painting with a dark color for a while, occasionally you go, 'Oh, maybe some yellow would look good here.' And so it's more of an overall tonal balance.
"But there's also that desire to continue to stretch ourselves and lean in to the gratification that our audience would come with us if we went to the darkest of places," he continues. "It gave us a bit of a creative license and freedom, I think."
RELATED: Orange is the New Black Favorite Samira Wiley on Joining You're the Worst
Jimmy catches a break…momentarily.
After toiling on his book, "Jimmy's profession takes the next step," Geere teases. "You think it's going to go wrong, but then it goes right for the first time ever. But that coincides with some terrible news, so he's juggling the personal versus the professional."
And viewers will hear portions of his work, as Jimmy searches for feedback on his tale from a variety of sources. "I actually quote it an awful lot this season," Geere laughs. "Some of it is just disgusting, but hilarious, also."
Will a baby be the key to a happy reunion for Lindsay and Paul?
After successfully impregnating herself via a turkey baster, Lindsay and Paul are back on track as a couple. Well, kind of. "She's been trying to be something for a long time," Falk says. "To the point where she's really gone for it. She's trying to be a good wife and now mother of Paul's baby. But I think it's an interesting exercise for me; can a leopard change its spots?"
"On one hand, she really takes comfort in and likes the safety net of a family and that conventional life; she could finally find her place in the world someway in the conventional sense," Donohue adds. "But inside, there's this, 'Oh no, is this right for me? Is Paul right for me?' But because she made the commitment to Paul, she's already in. So the conflict is like the deeper in you get, the harder it is to get out. I think it shows denial at its finest. What makes Season 3 so phenomenal is I don't know how the stakes could be any higher with what they wrote."
And though pregnancy can lead to a change in some women, "she does not lose her pizzazz," Donohue laughs. "She still has, as my grandmother would say, moxie. It doesn't stop her from being Lindsay, that's for sure."
With Lindsay being Lindsay, "their storyline gets really dark this season, almost immediately," Falk teases. "It's so dark."
RELATED: Ben Folds to Guest Star on You're the Worst
Can Edgar's relationship with Dorothy survive?
Edgar briefly thought his relationship with Dorothy had ended last season when he decided not to move in with her. But when Season 3 kicks off, things are good for the duo.
"I think they're definitely looking ahead to the future," Borges says. "I think he realizes out of everyone in his life right now, he realizes she's the most valuable. She comes first, even though he's extremely loyal to Jimmy, Gretchen and Lindsay. He knows all of the good things that have been happening in his life in the past year have been coming because of Dorothy. I definitely think Edgar is taking measured precautions to sustain the relationship as much as possible."
However, things won't be as smooth when issues from his past resurface. "Last season, we got him away from some of his issues: got him a girlfriend, got him a hobby," Falk says. "While I wanted to do it and did it very purposefully, to let him be more than that, a veteran with resulting mental health issues, it nagged me to drop that. So we're picking back up in a big way this season."
"I think overall, the biggest change we see in Edgar is that he really starts standing up for himself, whether that's with his girlfriend, whether that's with the VA, whether that's just other people in society," Borges adds. "If he's wading in quicksand, he's finally seen a bit of light and understands what it's like to get there and will do everything he f—ing can to get out of that quicksand and get to that next peak of progression."
But he won't be the only one in the relationship struggling. "Dorothy has a storyline this season; she's very consumed with her own stuff as well, as we all are," Falk says. "The characters who exist on TV who are just reactionary to another character drive me nuts. No one cares more about other people than themselves."
There's "tension" in the group.
With Lindsay and Edgar in other relationships, the core foursome have a different type of bond in Season 3. "Jimmy and Gretchen are very connected this year," Cash says. "There's probably more tension this year in the other relationships than you've seen in the past."
"Apart from Sunday Funday, when the four of us are like they've always been, the dynamic between each couple is really different and matured," Geere adds. "Edgar is in a relationship now. He's not Jimmy's bitch anymore. That's had an impact…Stephen always said this season it would be Jimmy and Gretchen versus the world, as opposed to last year, which was against each other. It's been much more fun for me [this season]."
As Lindsay's life spirals, "she gets herself into some s–t, she literally doesn't have time to be a friend to anybody," Donohue says. "Because she is so confused and angry with herself, it comes out on Gretchen. Within the themes of taking things to a new level, their fights are also taken to a new level. Everything in this season is like a Ferrari in sixth gear."
But as Lindsay/Gretchen and Jimmy/Edgar's relationships have shifted, Lindsay and Edgar's friendship "keeps on getting better and sweeter," Borges says. "Out of all four of them, I think the one he understood the least in Season 1 is the one he understands the most going into Season 3. They really are on the same page, and if he needs someone other than Dorothy to listen to him, it ends up being Lindsay. And he's always there to listen to her and help her as well."
You're the Worst, Season Premiere, Wednesday, August 31, 10/9c, FXX.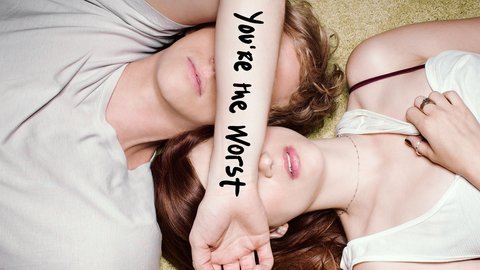 Powered by