'Darcey & Stacey': Whatever Happens in the End (RECAP)
[Warning: The below contains MAJOR spoilers for Season 1, Episode 9 of Darcey & Stacey.]
The twins endure questions about infidelity and deceit, while Georgi has another surprise in store for Darcey. At least we know whatever happens in the end, nothing can break the Silva sisters.
To Be or to Not Be a Fool
Stacey is still reeling after watching her new husband Florian be intimate with another woman. "We just got married," she cries in a confessional. "This is the last thing I wanted to deal with. Maybe I made a mistake rushing to get married…I'm not a f**king fool."
She drives to meet up with a tracksuit-clad Florian. While Stacey is scared that "the truth might be too much," he does need to finally come clean. He swears that he did not "f**k her," meaning Shanti, but Stacey asks if Shanti was trying to bait him.
"Why did you go there? Why did you do that?" she demands. Florian refuses to tell her the full story, still claiming that Shanti was trying to do a joint model photoshoot with him. He explains that he met with Shanti twice and he had asked her to delete the photos and videos of them together.
"I love you, you're number one for me," Florian apologizes. Stacey tells him that it can't happen again, and apparently that is that. Once a liar, always a liar, though. Stacey has tears in her eyes as she pleads with the camera that Florian just "made a mistake."
Bringing Sexy Back
Darcey prepares for new beau Georgi to meet her friends Debbie and Reina. Darcey and Georgi roll up to dinner looking like a sexy Matrix couple.
"Georgi is a handsome guy. I think he's got 'the look' that Darcey always wanted but settled for less," Reina says in a confessional. "Compared to her past, I would say he's gourmet compared to fast food."
Debbie jokes that Georgi resembles a "good-looking villain" but is too sweet to be considered "bad."
Darcey does announce to them that Georgi is in fact still married, and Reina's mind is blown. "Why would Darcey get involved with a married man? I don't know why Darcey would put herself into this position to be potentially hurt again," Reina tells the camera in shock.
Georgi explains he has been separated for a year and the last time he saw his estranged wife was in January.
Newlywed Game
Then Stacey and Florian arrive. It seems Georgi is the only one on stable terms with Florian, but the newlyweds still toast to their marriage.
"They got married. That was a shocker, I didn't expect that at all. Hopefully they're happy together," Debbie remarks. "Nobody knows what's going on."
Darcey throws some shade that she wasn't invited to their wedding ceremony, and Stacey smooths it over by throwing part of a broccoli head to the women in lieu of a bouquet. Darcey of course catches it and subsequently shares the broccoli with Georgi.
Later the issue of Shanti's videos is brought up again by Darcey. "She needs to wake up," she says in a confessional about Stacey. Florian swears he never was involved with Shanti, and when Darcey interrupts him to imply otherwise, he loses his cool.
"Everybody in life has some faults. What happened, happened," he smirks. "A little bit drunk and it happened."
It's now Stacey's turn to be in shock. This is news to her. Debbie takes over and begs Florian to focus and actually tell the truth. He shuts her down, telling Debbie to "shut the f**k up" multiple times.
"Listen! At the end of the day this is my marriage, this is my situation. He's here, we're in love, we're married now," Stacey shouts. "We're going to figure it out! Whatever happens in the end, I'm going to be a strong, powerful woman and you guys know that! It's unacceptable what he did, but we're already married and I'm not going to give up on him."
See Also
The TLC reality star twins open up about what to expect from 'Darcey & Stacey' and their complicated relationships.
Kiss Kiss, No Bang Bang?
Stacey storms off, and Florian follows her. He finally says he wants to tell her the full story. "I just kiss her," he starts.
"I don't f**king care. Was it passionate?" Stacey responds. "Did you feel anything when you kissed her?" Florian swears he only loves Stacey.
"I f**king cried so much, I have no tears left," Stacey yells. She can't trust him, nor should she at this point. She threatens to walk away from their marriage if Florian's behavior continues.
"I feel bad I hurt my wife," he says in a confessional. "I'll never do it again, no more…I learned a lesson for all my life."
Her Mane Man
Darcey brushes Georgi's hair before heading to her mother's 70th birthday barbecue. Georgi is also celebrating his 29th birthday.
Darcey is nervous once again about telling her family about Georgi's pending divorce as well as having Georgi meet her daughters.
Birthday Blowout
Mike immediately likes Georgi, calling him "calm" and a seemingly nice guy. Darcey and Stacey surprise their mother with an impromptu rap, and they bring out a cake for Georgi's birthday too.
Stacey and Florian also announce that they secretly wed, and Mike is not too enthused. He hugs both of them though, and Stacey takes it as a sign that Mike accepts Florian into the family.
See Also
In 'HEA Strikes Back!,' the couples will have a chance to respond to 'Pillow Talk' commentaries and social media fan criticisms.
Darcey wants to break the news about Georgi's marriage to Mike as well. Georgi once again has to explain that he was hoping to get divorced in March but the courts were closed due to COVID-19. "He needs to take care of that business if he's going to have a relationship with my daughter," Mike understandably tells the camera.
He requests a private conversation with Georgi and warns him about breaking Darcey's heart. Mike shares some words of wisdom, and the two decide to move forward.
Rock Out
The next day, Georgi looks into ways to prove to Darcey that he wants to be with her forever. "She's everything for me," he explains. Georgi sits on the bed and opens up a box containing….an engagement ring?!
"I want to propose to her," he smiles to the camera. "I hope after I propose to her, she might be more comfortable and trusting me more, and she'll see my intentions."
Previews
Next week, Stacey and Florian take their "mini-moon" to Rhode Island. Darcey and Georgi tag along on the trip, but she is starting to have her doubts after a woman comments on his Instagram. "It's making me feel like I can't trust him," she stresses.
Stacey puts the focus off of Florian onto Georgi, claiming he must be hiding something. Georgi tells the camera that after fighting with Darcey, he may not propose. He also is still hiding something from her, but there are no clues yet as to what that might be….
Until next time!
Darcey & Stacey, Sundays, 10/9c, TLC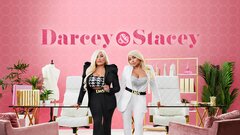 Powered by