'The Late Show' Goes Live After the Presidential and VP Debates
CBS's The Late Show with Stephen Colbert is going live with three shows that will follow the upcoming presidential and vice presidential debates.
The Late Show will air live at 11:35pm ET (delayed PT) on Monday, September 26 following the first presidential debate, October 4 after the vice presidential debate and on October 19 after coverage of the third presidential debate.
RELATED: Stephen Colbert's Simple, Common Sense Take on Bathroom Laws
The live shows will broadcast from the Ed Sullivan Theater in New York City with Colbert hosting each night. Guest lineups have yet to be announced.
The Late Show has already been making a stir with recent Republican and Democratic National Convention coverage where clips of Jon Stewart's guest appearance and Laura Benanti's impersonation of Melania Trump went viral.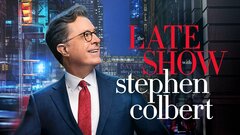 Powered by