Leti Takes on Evil Spirits & Racist Neighbors in 'Lovecraft Country' Episode 3 (RECAP)
Holy Ghost
Season 1 • Episode 3
[Spoiler Alert: This recap contains spoilers from Lovecraft Country Season 1 Episode 3, "Holy Ghost."]
One of the great things about Lovecraft Country is that it's not afraid to do standalone episodes. In the age of prestige TV, especially on esteemed cable networks like HBO, "episodic" has almost become a dirty word. Everything nowadays has to be part of a broader narrative—a 10-hour movie broken up into weekly installments. But it's this approach that makes many modern-day dramas such a chore to sit through. Lovecraft Country doesn't follow those rules, and it's all the better for it.
With a "monster of the week" conceit, if the show wants to put aside the wider mythology of bigoted wizards and magical ancestral bloodlines and do a haunted house episode, it can. That's not to say "Holy Ghost" doesn't have any connection to prior events or push the larger narrative forward. The characters are still feeling the reverberations of George's (Courtney B. Vance) death, and the enigmatic Christina Braithwhite (Abbey Lee) continues pulling strings from the sidelines. But the bulk of the episode revolves around a classic ghost story, combined with some astute commentary on racial residential segregation.
Back in Chicago following their hell-raising road trip, Leti (Jurnee Smollett) and Tic (Jonathan Majors) are trying to pick up the pieces. Tic has been helping his Aunt Hippolyta (Aunjanue Ellis) with household chores and taking care of his younger cousin Diana (Jada Harris). However, Hippolyta is rightly suspicious about what really happened to her husband George out in Massachusetts. Tic isn't comfortable with lying, nor is he pleased to brush aside what happened and move on. But his hard-headed father, Montrose (Michael K. Williams), insists they keep the truth buried and forget all about the events in Ardham. "Let it die with the bodies that burned in that lodge," he tells Tic.
Leti, meanwhile, comes into a small fortune when she receives a surprise inheritance from her late mother. Using the money to purchase a creepy-looking house in a white suburban neighborhood, Leti invites Ruby (Wunmi Mosaku) to come live with her, making amends for all the times she's borrowed from her half-sister in the past. Leti plans to turn the rundown property into a boarding house, "a safe haven for colored folk," but Ruby is concerned—and not just about the malfunctioning elevator. Ruby tells Leti about a Black couple who recently had their house burned down after moving into a white area across town. The horrible fact is, it's not safe for Black people to live in white neighborhoods.
Ruby's fears quickly become a reality when a gang of white folk from across the way start honking their car horns outside the house. Tic, who was planning to leave town, decides to stick around to make sure nothing bad happens, or at least be present if it does. Leti is undeterred, though; she powers ahead with her housewarming party, ignoring the incessant beeping outside and the increased heat inside (caused by neighbors messing with the boiler)—Tic compares it to Korean War torture tactics. And when the party is disrupted by a cross burning in the yard, Leti takes a baseball bat and starts swinging at the cars out front like Beyoncé in Lemonade. It's an equally thrilling and cathartic sequence.
At this point in time, racial segregation was deeply baked into housing laws—laws that have had a lasting effect on American society. In a policy known as "redlining," African-Americans (and other people of color) were forced into inner-city housing projects, where they were denied mortgages and access to better schools, jobs, and healthcare. Housing divisions on the outskirts of towns were reserved for middle- and lower-middle-class white families, and it was frowned upon—or in some cases illegal—to sell homes to African-Americans. If a house in one of those suburban neighborhoods was sold to a Black family, the occupants would often be subjected to the kind of racist bullying and harassment seen in this episode.
Take the story of Bill and Daisy Myers, who, in 1957, moved with their three children into the predominantly white neighborhood of Levittown, Pennsylvania. In a matter of days, hundreds of white protestors gathered outside the Myers' property, throwing rocks and stones at the windows, blaring music through the night and burning crosses in the yard. Local law enforcement refused to do anything about the situation for months—just as we see in this episode when Leti is arrested and abused by a racist cop while the white bullies go freely about their business. If anything, the police were seen as encouraging the violence. Eventually, the Myers family moved rather than live under constant threat and duress.
Similarly, many of Leti's houseguests leave out of fear for their lives. Ruby goes too, though that is partly because she finds out about Leti's inheritance and is hurt that her sister kept it from her. But as I said earlier, Leti doesn't back down from anybody, whether it's the bigoted neighbors or the ghosts in the basement. Oh, yeah, let's not forget that Leti is also dealing with a haunted house during all this chaos. Seems the property once belonged to a racist scientist named Hiram Epstein, who performed unethical human experiments in the basement. He usually experimented on African-Americans, nabbed from the inner city by police and delivered to the mad doctor. It's the spirits of those victims that cannot rest.
The haunted house theme means many familiar tropes: flickering lights, banging in the basement, a spooky face in the mirror, poltergeists, and exorcisms. There are also some really disturbing visuals courtesy of Epstein's monstrous creations—a baby's head stitched atop an adult body being especially ghoulish. Conviction dictates that the villains get their comeuppance, and when the racist bullies break in, they're dispatched by the ghosts one by one. There's a tremendous Final Destination-esque death when one dude gets decapitated by a plummeting elevator. The final sequence is spectacular too, with Tic, possessed by Epstein's spirit, starting to walk menacingly toward Leti.
Leti again saves the day by joining in a prayer circle with the trapped spirits and ridding the evil specter from Tic. "Get the f**k out of my house!" she roars, a statement directed as much at the racists as it is the supernatural world. This is really a breakout episode for Smollett, who brings such ferocious energy to her character. The actress can take Leti from haute couture beauty to down-and-dirty fighter in the blink of an eye, and she's equally convincing in either role. Tic might have been the one assigned as the protector, but honestly, if you wanted anyone to save you from gruesome ghosts and violent bigots, there is no better choice than Letitia "Leti" Lewis.
Additional Notes
After a bit of "will they or won't they" shenanigans, Leti and Tic finally get it on in the bathroom during the house party. Leti later reveals it was her first time.
Hippolyta tells Montrose she doesn't feel right about what happened to George. Montrose continues to hide the truth, but you can tell Hippolyta has an itch to investigate.
At the end of the episode, it's revealed that Christina was behind Leti's inheritance. Apparently, Epstein was a follower of a man named Winthrop, a former associate of her father's who stole pages from a sacred spellbook. Those pages could help decode the language of Adam and open the gates to Eden. I'm still not fully on board yet with all the magical bloodline stuff, but as long we keep getting strong standalone stories, I can handle a bit of wizardry.
Lovecraft Country, Sundays, 9/8c, HBO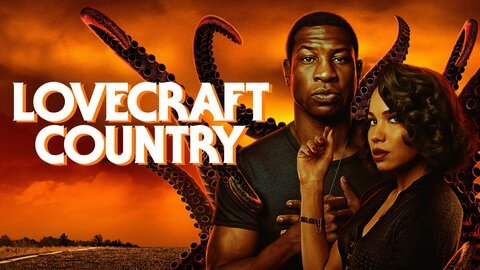 Powered by