'iZombie': David Anders, Robert Buckley, Malcolm Goodwin and Rahul Kohli Dish on Their Off-Screen Bond
Behind every great zombie there are great men. In the case of iZombie, that would be star Rose McIver's fantastic four: David Anders (or "Ders," as his costars call him), who plays zombie baddie turned amnesiac human ally Blaine DeBeers; Robert Buckley, aka zombie Major Lilywhite and Liv's (McIver) former fiancé; Malcolm Goodwin, as Clive Babineaux, a Seattle detective who frequently partners with Liv; and Rahul Kohli, who plays Ravi Chakrabarti, Liv's boss at the medical examiner's office. Their characters may have increasingly complicated relationships on screen, but off screen, the cast has formed a tight bond. "When you film away from everybody you know and love, your coworkers can really make or break the experience," McIver says. "I feel like I just won the lottery."
The costars spilled on their dynamic…and a few secrets about each other.
Looking back at last year, what was your favorite part of Season 2?
David Anders: I liked working with Rahul a lot more. I liked the little love triangle that's brewing between Rahul, Aly (Peyton) and myself.
Robert Buckley: I liked seeing Clive and Bozzio's relationship. That was the first time we got a glimpse into who Clive was; the man behind the badge. And Jessica Harmon as Bozzio killed it. She was such a great addition.
Rahul Kohli: Also, I like how the stakes have been raised. How they created far more danger for everyone; they fleshed out the mythology of our world. I like how the world of Seattle was fleshed out. We've got a much richer kind of environment right now, far more Big Bads. With the FBI agency, as well, I like how they expanded.
Malcolm Goodwin: I also like how all the characters and all the worlds interconnected. I also love the way that everything came to an end, all that action stuff. That Max Rager stuff was so much fun. I like the way all the storylines came together, all the way the characters got to interact and how everything got to blow up.
RELATED: iZombie: 6 Burning Questions For Season 3
What's it like when several of you share scenes?
Buckley: Malcolm's very professional, and for some reason, that drives me to be so immature and unprofessional. Our first scene together, I was just so excited to be with him. Every time, right before they called action, I would hold Malcolm's hand, and he'd try to jerk it away.
Goodwin: He slaps my ass. In the last episode, he got Rose into it. They call action and he hit me on one cheek, Rose hit me on the other.
Anders: A lot of ass slaps from Buckley.
Buckley: If you take one thing from [this], it's that Buckley comes with a lot of ass slaps. [Everyone laughs]
Goodwin: We get along in real life, so it makes it that much easier to jump into a scene, work with one another, comment on what each other is doing and help each other out. That dynamic brings out the best in all of us.
Kohli: We've all worked on various jobs where you're not as close with other people. With this particular show, having that connection allows us to bring a certain energy to the scenes.
Do you prefer to film the lighter or more tense scenes?
Kohli: Tense. For me, I've done 30-plus episodes of being light and doing the humor in stuff like that; that's kind of Ravi's device. When we get to do some of the more emotional stuff, when Ravi confronted Major about being the Chaos Killer. And I'm kind of speaking on behalf of Malcolm here, but it was a nice change for Malcolm to also play some of the stuff with Bozzio when they were breaking up and have some meat and real tense scenes with Liv.
Buckley: Ders, what do you prefer? You've had scenes where you were killing me or kicking the crap out of me, and we had scenes where we were slightly nicer to each other. What's your preference?
Anders: I like their nice stuff. I like being on equal footing. I thought that was kind of fun. That stuff with, "Oh, you're a zombie again?" "Yep." That kind of stuff. I liked that. I like working with you, Robert.
Buckley: Aww, Ders! I'm swooning.
Anders: If I'm kicking your ass or you're slapping mine.
Buckley: We're a tactile bunch.
RELATED: Malcolm Goodwin on Clive Learning Liv's Secret
What is your favorite personal touch the writers have given each of your characters?
Goodwin: I know for me, it's making Clive a Knicks fan. And we've been doing badly. We've been a bad team for how long, Ders? A decade and a half? It's been tough. And [iZombie executive producer] Rob Thomas and [iZombie writer] Bob Dearden, and we also go back and forth, because they're San Antonio Spurs fans, and they beat the Knicks in '99 in the championship. Clive having a Knicks shirt when Liv tells him he's a zombie. He has Knicks knickknacks all over his desk. So I'm a Knicks fan in real life, I admit it. I'm proud of it. I own it.
Kohli: Well, I get the Star Wars references, right? And the game and stuff dropped in, that they keep sneaking in for Ravi. But one of the things I'm most proud of, being a Brit on an American TV show, is a lot of the actors have a tendency when you come over just to brush up your English, and everyone winds up sounding like Downton Abbey, which isn't a fair representation of the locals. And in Season 2, I get to sound more like a real Londoner and I don't have to ADR every time I say "either." That's a proud thing for me to be one of the few Brits on TV that can talk like this.
RELATED: iZombie Promotes Aly Michalka to Series Regular in Season 3
What has been your favorite pop culture reference so far?
Buckley: Off the cuff, the magician episode I thought had so many great nods to the whole street magic, David Blaine.
Kohli: Penn and Teller.
Buckley: Exactly. That episode was chock-full of them.
Goodwin: I was working out at the gym, and somebody tapped me on the shoulder like mid-rep [and said], "What's George R. R. Martin doing right now?" Dead serious.
Buckley: Really?!
Goodwin: I'm like, "Huh?" And [they repeated], "What's George R. R. Martin doing right now? YOU'RE CLIVE!" They were dead serious!
Buckley: As if you don't remember.
Goodwin: The Game of Thrones reference, that was great. And obviously that fandom is so huge. That became one of my favorite ones.
Kohli: We also had something amazing happen. In Episode 4 of Season 1: they were looking for a game for Major and Ravi to bond over, and we suggested Diablo, because that's what we were playing at the time. And then a year later, Blizzard made a character named Ravi Lilywhite, and when you defeat him, you get a Liv Moore sidekick.
Buckley: That's so crazy to me that happened.
On that note, what's been your most surreal experiences related to working on this show?
Anders: I think it's really cool doing these conventions. I've had a mother-son team dressed up as Liv and Blaine.
Buckley: When the first [collectible] statue of Liv came out and when the iZombie action figures came out, that blew me away—then they came out with these little mini-figures of Blaine and Liv. I'm crossing my fingers we get the whole cast soon, because that's on my bucket list.
Goodwin: What was really surreal for me was going on the MTV Fandom Awards stage [in 2015]. That day at Comic-Con, that was just incredible. Somebody sent me a link to it the other day; I forgot about it. It was online; you could sit there and watch it. That was like a dream. I almost forgot about it. That was surreal to be on stage with everybody and to be accepting that award.
Kohli: I was in McDonald's, and as I walked in, the woman at the counter screamed. She made me sign a napkin, and she came round with her headset on to take a photo. At a McDonald's! That was surreal. You don't even realize other people watch it outside of Twitter, you know?
Buckley: I remember when we were at Comic-Con before we started Season 1, all of us laughing, and being like this is the hardest show to cold sell. If people haven't seen iZombie, it is the toughest concept to sell. Especially if you're trying to do it in sound bites. I remember us laughing, and being like, "Guys, if we get a second season, this will be so much easier next year." And it was so cool to be back and actually have people not only know the show, but be into it as well. It was really nice. It's a show we all like being a part of. Not only are we back here and it's easier, but they like it.
Which Liv brain would you have liked to experience?
Buckley: The frat-boy brain. I'm already a bit of a dude-bro, and I think it would be a fun personal challenge to see how hard I could bro the hell out.
Kohli: With your Doritos and your Gatorade.
Buckley: When we hung out after the pilot, Rahul was the first one who came over to my house, and he was like, "You're a proper dude-bro…there's your Xbox, your Mountain Dew; you probably have Doritos in the cabinet." I did.
Goodwin: Seeing Buckley as Major when he was on positivity brain—that was hilarious. You crushed that, man. I think that would have been fun: Clive interacting with Major when he's on positivity brain.
Buckley: There would have been an ass slap.
RELATED: Rose McIver Picks Her Favorite iZombie Season 2 Brains
What do fans not know about your castmates?
Anders: Careful!
Buckley: This is mutually assured destruction.
Kohli: Malcolm can sleep anywhere. He's the worst person to take a flight with, because he can fall asleep on the runway and is gone for hours. Ders is the hardest on himself; he doesn't need to be, because he's fantastic. Buckley is a crafty snacker; on set, he'll have six plates, five sandwiches, three drinks, a little cup of nuts and a comic book.
Buckley: Malcolm is the most professional on set. Rahul is the worst napper I've ever met. He's aware of it, and he tries, but if he takes a nap, he is a proper grouch. Ders is probably the most exciting and surprising to work with, because you really never know what the hell he's going to do. [Laughs]
Kohli: Rose is super professional, very sweet and just awesome. Every now and again I can break her; she can draw something dirty on a clipboard. It's always worse than I could hope for, and it's always too explicit. But it's my favorite thing.
Goodwin: Ders has a mean basketball game. Even in the old-man costume, I watched him making a jump shot. Rahul and Bucks will surprise you with little things. I like candy and [Buckley brings me some]. He thinks about everybody in these little moments. Rahul's the same. If Rose is having a hard day, she'll go into her trailer and he'll have flowers [there for her]. During lunchtime, usually I don't eat, but if there's something I like, Rahul puts some in my trailer. There's a great generosity.
Is there anything you'd like to say to the fans?
Kohli: Thank you. We have a show, and the title alone and elements of it were, like Buckley had said, were difficult to pitch. And we're now headed into our third season and a great fan base and people who support us. And it's only expanding. They made our lives so much more easier. And they've been loyal from the jump. We can't thank them enough for their support and the photoshops they do. The only way we can try and reward them is try and top it with Season 3.
Buckley: Preach.
Goodwin and Anders: Ditto.
iZombie, Returns Midseason, The CW.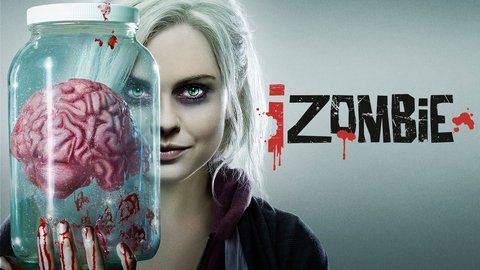 iZombie
where to stream
Powered by