'iZombie': Rose McIver Picks Her Favorite Brains From Season 2
Normally, television actors have their hands full trying to get a grasp on just one character. But iZombie's Rose McIver is tasked with playing a new character every week: When undead assistant medical examiner Liv Moore eats the brains of the corpses who come her way in the morgue (to avoid becoming a full-on zombie), she takes on characteristics and memories of the deceased as a side effect.
"I had a lot of fun pushing outside of the characters that I had been allowed to play before," McIver says of this role's inherent diversity. "I feel like we took it a little further, and for me as an actress, that was really fun." McIver shares her favorite personas from Season 2.
"Zombie Bro"
College proved to be deadly for a frat boy, and Liv bro-ed out—hard—after she ingested his brain during the case. The stark contrast between the victim's loose, partying persona and Liv's more reserved demeanor allowed McIver to tap in to new places as an actress. "It was a sense of humor and a sensibility I'm never normally cast in,"she notes.
Among the things Liv got to indulge in while she was on the frat brain? She held her own at a wild party (complete with pulling off a keg stand) and drew on her colleague Ravi (Rahul Kohli) while he was sleeping. But mostly for McIver, she enjoyed "all of those dumb boy jokes I pretend not to laugh at but I find really funny," she says. "Everyone broke a lot during the taping, because we were filming things like me playing beer pong!"
"Abra Cadaver"
A death at a magic convention led to Liv channeling her inner David Copperfield as she and Seattle police detective Clive (Malcolm Goodwin) worked the case. "I enjoyed the magician, because I got to learn behind-the-scenes magic secrets," McIver says.
To get a bit more insight into the magician's world—and to prep for Liv's newfound expertise in the episode—McIver studied with a magic consultant who taught her a few sleight-of-hand tips. However, that glimpse behind the curtain did have a real-life drawback. "It definitely spoiled the [Los Angeles magic club] Magic Castle for me a little bit," she acknowledges. "Now I'm very skeptical and suspicious, and I have a little bit of insight into the tricks people use."
"Real Dead Housewife of Seattle"
Liv embraced her inner rich bitch when she investigated the death of a trophy wife who was pushed off a balcony. As Liv reluctantly spent her birthday alone, she took on the persona of a lady who lunches. She got sassy with those who annoyed her (and slap-happy with Robert Buckley's Major) and overly emotional during the case, including getting clingy with the real killer. She went all out with the outfits, hair, nails and shoes—even if it wasn't exactly practical for work.
"'The Real Housewives of Seattle' was such a different look for Liv," McIver says. "To be able to have some sort of physicality to the brain she's eaten: straighten her hair, put on these dresses Liv would never normally wear [is rare]."
"Eternal Sunshine of the Caffeinated Mind"
When Liv ate the brain of the Positivity coffee shop owner, she became very perky—a trait that rubbed off on McIver during that hour's production. "It was just really uplifting," the Kiwi actress notes. "It's funny: You reprogram your own brain a little bit when you're saying these joyful and inspiring things, as silly as they are. It makes for an uplifting environment when that's the kind of mantra we have all day, every day."
A few episodes later, Buckley got to do his own twist on the concept after Major ate a bit of the leftover brain. "It was fun, and it opens the door for lots of opportunities to play with that next season," McIver points out. "When various characters eat the same brain, how much is it informed by who they are as a person as [it is] by the brain they're eating?"
"Even Cowgirls Get the Black and Blues"
Eating the brains of a murdered singing waitress from a country bar gave Liv the chance to find a new way of working through her complicated feelings about love and loss: music. "I love singing, and it was an excuse to play some music, get on the guitar and sing a little on set," McIver says. "I had a lot of fun with that."
iZombie had a few other musical moments in Season 2 (singer Rob Thomas guest starred and performed as himself in the finale), but McIver now has a bigger goal in mind: to follow in the footsteps of fellow genre series Buffy the Vampire Slayer. "It made me want to do a full musical episode, which I'm plugging for," she says.
iZombie, Midseason, The CW.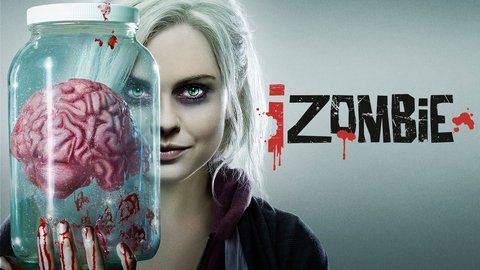 iZombie
where to stream
Powered by