Worth Watching: 'Good Fight' on BET, Jamie Oliver Carries On at Home, New Face, Same Job for Acorn's 'Rebecka Martinsson'
A selective critical checklist of notable Monday TV:
The Good Fight (8/7c, BET): Always one of the most "woke" shows anywhere on TV, the provocative legal drama (and spinoff of The Good Wife) brings six episodes from the terrific third season to BET for a two-night special presentation. These episodes, which premiered on CBS All Access in spring 2019, deal directly with issues of race, politics and bias in and out of the workplace. Monday's three-hour block comprises the first three episodes of the season, which begin when troubling revelations come to light involving past indiscretions of a partner who's key to the firm's image. Three more episodes air Tuesday.
See Also
The actress debuted on 'The Good Wife' as Lucca Quinn before moving to the spinoff.
Jamie: Keep Cooking and Carry On (streaming on Hulu): Influential British chef and restaurateur Jamie Oliver keeps it simple in a series of 20 episodes offering easy-to-follow recipes, ingredient swaps and kitchen tips on technique — which can come in handy for those still mostly sheltering at home and not going out to eat as often. (A recipe for crispy tacos appears in the current issue of TV Guide Magazine.)
See Also
Get cooking! Some of our favorite on-air chefs, like Padma Lakshmi and Jamie Oliver, share their simple and seasonal go-to recipes.
Rebecka Martinsson (streaming on Acorn TV): If you got hooked on the acclaimed Swedish mystery series during its initial run in 2017, you'll notice something different in the second season of four two-part mysteries. The title prosecutor is now being played by a new actress, Sascha Zacharias, but Rebecka herself hasn't much changed. The Stockholm attorney is still struggling to adjust to life back in her hometown of Kiruna in northern Sweden, where the cases involve an apparent death by drug overdose, a family feud that turns violent, a 16-year-old cold case and a puzzle involving a woman and baby discovered in a car following a snowstorm, begging the question: accidental death or something more sinister?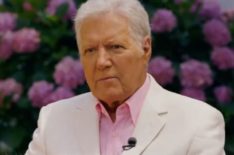 See Also
The host has been fighting Stage 4 pancreatic cancer for the past year and a half.
Inside Monday TV: The timeless quiz show Jeopardy! (syndicated, check local listings) continues raiding its vaults for gems from the past, and this week will be all about Celebrity Jeopardy! (not the Saturday Night Live parody), starting with the first such game, broadcast in 1992, featuring Carol Burnett, Regis Philbin and Donna Mills as contestants… Maybe this item should have gone to the auction house instead of the Gold & Silver Pawn Shop that's the setting of History's Pawn Stars (10/9c). Rick Harrison assesses a work titled Welcome to Hell from street artist Banksy, with an asking price of $1 million… Travel Channel continues its obsession with the paranormal in Into the Unknown (11/10c), where adventurer and survivalist Cliff Simon heads into treacherous regions to investigate myths and legends. First stop: the Louisiana bayou and the 1.4 million acre swamp of the Atchafalaya Basin, where he seeks a swamp monster known as the Rougarou, a werewolf-like creature said to feed on human flesh.