'Outlander': Jocasta's Story & Jamie and Claire's Feud in 'Better to Marry Than Burn' (RECAP)
Better to Marry Than Burn
Season 5 • Episode 6
[Warning: The below contains MAJOR spoilers for Season 5, Episode 6 of Outlander, "Better to Marry Than Burn."]
Outlander is raising the stakes each passing week and the latest episode, "Better to Marry Than Burn," is no exception.
While we learn more about Jocasta (Maria Doyle Kennedy), Jamie (Sam Heughan) and Claire (Caitriona Balfe) find themselves at odds as Roger (Richard Rankin) and Brianna (Sophie Skelton) face their own challenges on Fraser's Ridge. Below, we're breaking down all of the action, but beware of major spoilers ahead.
The action begins with a flashback to 1746 Scotland following the battle of Culloden as a carriage is stopped on the road by a troop of red coats. When they ask to search the vehicle, Jocasta and a young girl exit the carriage with a man. Seeming to be in the clear, the red coats are about to let them on their way when the young woman trips in the mud and a soldier goes to help. It's then that he spots a hidden chest which contains French gold, implicating that Jocasta and her fellow travelers are Jacobites.
When the man sees the red coats are about to turn on them, he takes the first opportunity to shoot, but in the process shoots the girl who Jocasta calls Morna. Horrified, she falls to the ground, weeping over the lifeless form as the man proceeds to kill the other soldiers. He then gets Jocasta up and tells her the girl is dead and they have to leave. We see Jocasta take the girl's ribbon, and we're then transported to her holding the ribbon in the show's current timeline in 1770s North Carolina.
Receiving a visit from her husband-to-be, Duncan Innes (Alistair Findlay), she is gifted a small pouch filled with lavender and adorned with the MacKenzie motto "I Shine Not Burn." It's clear she's not interested in him and her servant Ulysses (Colin McFarlane) notes this as well after she quickly excuses herself from Mr. Innes when she's learned Jamie's arrived for their nuptials which are set to take place. Joining Jamie and Forbes (Billy Boyd), she signs over her property to Jemmy legally, making him the proprietor when she's no longer alive.
Meanwhile, back at Fraser's Ridge, Roger and Brianna are staying put to take care of a sick Jemmy rather than attend Jocasta's wedding, but their situation goes from bad to worse when they discover a locust infestation.
Back at River Run, Jamie and Claire discuss how it should be Murtagh (Duncan Lacroix) marrying Jocasta instead of Mr. Innes. They then meet up with Lord John Grey (David Berry) who has been forced to dance with all of the eligible women in attendance. While lamenting this face to his friends, Lord John, Jamie and Claire encounter Governor Tryon (Tim Downie) and his wife Margaret (Melanie Gray). During their chat they learn that the Tryons are set to move to New York when the Governor introduces them to a local judge.
Breaking away from the group, Margaret takes Claire aside and they notice Phillip Wylie (Chris Donald) who Claire met last season at a dinner in Wilmington. Transformed, the man is powdered on his face and wig, a dandy by all accounts. Margaret asks Claire's opinion of him and it's clear she's not a fan as they agree he's a "persistent" man. Margaret also reveals he's had a serious gambling problem and is in major debt. Promising to distract him from Claire, Margaret steps away from her to intercede Mr. Wylie.
Back at Fraser's Ridge, everyone looks to Roger in order to handle the infestation problem — while most want to burn the crops, he wants to keep from taking such drastic measures, and they question his decision-making abilities. While he doubts himself, Bree supports him and it leads to the sparking of an idea involving smoke and using it as a means of drawing the pests away.
Meanwhile, Claire overhears women discussing Dr. Rawlings, her pen name, as they wonder what doctor would tell women ways to prevent pregnancy. Claire defends the advice her newspaper segment offers until Mr. Wylie interrupts, having escaped Margaret. But she's quickly saved when Margaret whisks her away, claiming Jocasta needs to see her.
As for Tryon, who chats with Jamie, he reveals that the regulators haven't all been cleared, saying that any of the men who took part in the Hillsborough riots will be indicted because there's the law and then there's what's done. But Jamie is confused why he's choosing to do this now. Claire instead is finally unable to escape from Wylie when he finds her in the big house and offers her all of the finer things in life, telling her he has a "friend" who Claire assumes is Stephen Bonnet (Ed Speleers).
He then asks her which ring belongs to her husband, "silver or gold," noting her jewelry, and asks about her first husband Frank (Tobias Menzies). Instead she sticks with the remark about his friend, questioning if this man can circumvent financial hurdles. This is when Wylie slips Bonnet's name, confirming Claire's fears. She pretends to have a venture for Bonnet, but Wylie says he's weary about dealing with others.
Meanwhile, Roger builds smoking devices with dung in pots and green leaf piles. After lighting the fires, the fields fill with smoke as Marsali (Lauren Lyle) and Fergus (Cesar Domboy) assist with fanning the small fires to build more. When the camera pans out, a biblical-sized swarm of locusts can be seen as they are repelled by the fumes. They darken the sky but eventually the haze clears as Roger finds success.
As for Claire, Mr. Wylie gets her to follow him to the stables where he shows off his prized stallion Lucas. He takes the opportunity to force himself on her but Jamie bursts in at the perfect time, just after she's thrown the man off of her and into a dung pile. At first Wylie claims he's innocent and Claire made the first move, but Jamie knows better as he throws the man against the wall with a knife pointed at his neck.
Jamie threatens to tell Mrs. Tryon, but that doesn't worry Wylie, who knows where he stands with the woman. Instead Jamie asks if Wylie would join him in a card game with the stakes being his stallion, but the man won't agree unless Claire's rings are Jamie's wager. Enraged, Claire doesn't want to risk her rings, but he convinces her it's what's needed to get close to Bonnet. Reluctantly she hands them over, but it's clear no sweet talking will make it better.
While things are at an all-time low for Jamie and Claire, Roger is flying high at Fraser's Ridge as the people commend his quick thinking that saved their crops. Bree even jokes that he could become Major MacKenzie now.
Jocasta, on the other hand, is taking a moment alone when Ulysses reveals she has a guest who is none other than Murtagh. He presents her with a gift, a medal brooch of two hearts adorned with a ribbon to wear like a necklace. At first he says he hadn't wanted to stand in the way of her happiness but now he asks her to wait for him, and she's reluctant. She essentially turns him down and then recalls her past, telling him about the scene we saw at the beginning.
The girl who was shot was her daughter, and the man her most recent husband Hector. She tells him that the girl died because of the gold, and it's the same gold she's living on now. She breaks down as she recalls leaving her on the ground, and mentions her other children likely to have died following the collapse of the Jacobite rebellion in the 1740s.
Murtagh comforts her, but she tells him that she cannot be with a man who is willing to lose everything for what he believes in because that's what happened when she was with Hector. "I love you, Jocasta," he tells her, adding that will never change. He ends up leaving the gift behind him as he leaves and wishes aloud that he'd been brave enough to tell her sooner.
Claire is found by Jamie at the stables later on and it's clear he's drunk, but he says it's a cause to celebrate, holding out her rings and revealing he beat Wylie in the game. But Claire's not appeased, telling Jamie that his hatred for Bonnet almost lost her the rings, something they'd already lost from him in the past. When Jamie tells her she sometimes needs reminding on how to act, she gets mad, but it turns up to another level when he says she's a woman like no other but "you're still a woman."
Needless to say, the resulting slap was more than deserved, but when he pulls her in for a kiss she pulls back. It doesn't take long for her to give in though as things turn steamy in the stable hay. After their tryst, they chat and Jamie says he made a trade with Wylie in exchange for letting the man keep his stallion — he wants a meeting with Bonnet, and Claire agrees this is good as long as Jamie promises that he won't allow Bonnet to take anything from them again. "I promise," Jamie says.
Meanwhile, we're brought to a scene of Forbes in a cafe as he reads the paper. There he's joined by Stephen Bonnet, who learns his son's been made the future proprietor of River Run, and we can see the evil cogs turning in his mind. Meanwhile, Jamie's told by Tryon that he'll have to gather his militia once more and report to Hillborough to combat the war against the crown.
What will happen next? Find out when Outlander returns next week on Starz.
Outlander, Sundays, 8/7c, Starz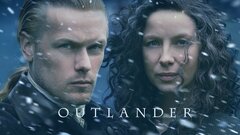 Powered by