Will a USO Bring Hynek & Quinn Together in the 'Project Blue Book' Finale? (VIDEO)
Apparently the sky's not the limit when it comes to alien life on the UFO-hunting drama, which draws from another real-life declassified case for its second-season finale.
This time, instead of flying saucers, scientist Allen Hynek and Air Force Captain Michael Quinn (Aidan Gillen and Michael Malarkey, above) investigate a possible unidentified submerged object on Project Blue Book. The USO was spotted during a joint military exercise on the border of Russian waters and then reported by a U.S. battleship.
See Also
Find out how the scripted drama is blending reality with fiction.
Despite resistance from the ship's commanding officer, Hynek and Quinn refuse to back down (they find themselves adrift — literally!), "even if it means risking their lives," previews showrunner David O'Leary.
That desire to discover the truth, he adds, brings the unlikely duo "closer together than they've ever been…[but] it will also be the force that [possibly] separates them."
Project Blue Book, Season 2 Finale, Tuesday, March 24, 10/9c, History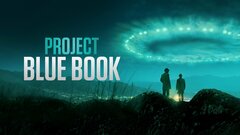 Powered by