What's Worth Watching: 'Odd Mom Out', 'UnReal', 'BrainDead' and more for Monday, June 20
Odd Mom Out (10/9c, Bravo): The bitingly funny social satire spoofing Upper East Side Real Housewives narcissism is back for a second season, with buzzwords like "she-donism" and "decadence is the new excess" greeting odd-socialite-out Jill (Jill Kargman) when she learns you can't go home again—home being her old workplace of a shark-infested fashion mag—when she tries to score some freelance photography work. While husband Andy (Andy Buckley) plays Mr. Dad, and not all that well, Jill sees Queen of the Mombots Brooke (Abby Elliott) everywhere she looks. This urban nightmare is a scream—of laughter.
UnReal (10/9c, Lifetime): On the night's other most brutally entertaining series, taking us behind the scenes of a Bachelor-like reality-dating cesspool, Chet (Craig Bierko) once again tries to assert power when he's given free rein to produce a more male-skewing version of Everlasting, while Rachel (Shiri Appleby) suspects this season's "suitor" is hiding something.
BrainDead (10/9, CBS): This kooky blend of sci-fi spoof and political parody continues with Laurel (Mary Elizabeth Winstead) gaining more allies in her search for the truth behind the D.C. Pod People: street-smart savant Gustav (Underground's Johnny Ray Gill) and ER doc Rochelle (Nikki M. James), whose father's head went kaboom in the pilot. And his isn't the only one, because the bugs keep marching on in their crusade to infect the movers and shakers of our nation's dysfunctional capitol.
Inside Monday TV: Just when you thought this juvenile season of Fox's So You Think You Can Dance (8/7c) couldn't get more dispiriting, Dance Moms' 13-year-old Maddie Ziegler comes aboard as a mentor (and eventually a judge) as the contestants enter the Academy for the next qualifying round. … Freeform's The Fosters (8/7c) opens its fourth season with a topical crisis, as the moms head to school in a panic after a lockdown that's caused by Mariana's boyfriend Nick bringing a gun to campus. … The stylishly relevant HBO documentary Suited (9/8c) profiles a company that creates custom-designed suits for members of the LGBTQ community to reflect each client's own distinct gender identity. … The legal battle over abortion is the subject of the Independent Lens documentary Trapped (10/9c, PBS, check local listings at pbs.org), which explores the current case before the Supreme Court (Whole Women's Health v. Hellerstedt), which argues that laws setting restrictive new standards for abortion providers are actually an attempt to circumvent Roe v. Wade by limiting access to abortion in many states.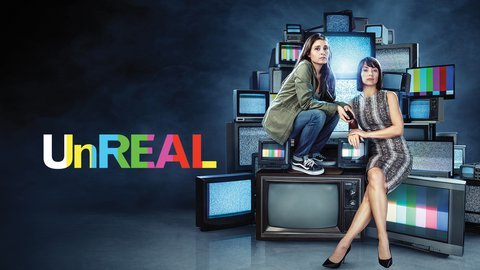 UnREAL
where to stream
Powered by