'Devious Maids' Cast, Creator Tease Drama, New Loves and the 'Desperate Housewives' Reunion in Season 4
With Devious Maids' fourth season around the corner, the cast and executive producer Marc Cherry spoke with TV Insider to dish about the twisty year ahead.
Did Adrian (Tom Irwin) survive the finale's explosion?
After Adrian was trapped in a house explosion, viewers were left wondering how he might make it out intact. "Whether he's alive or he's dead, he looms large," Rebecca Wisocky (Evelyn) says. "A lot of things are revealed in the premiere."
If he does survive, Evelyn's dynamic with Adrian could get even more complicated. "She was very ready for that relationship to be over, once and for all. But I think you heard in the tone of her voice when she called his name at the end of the season finale last year that maybe that might be a mistake. She will have a lot to wrestle with."
Evelyn will also find herself in an unusual place, as she ends up bunking with Marisol (Ana Ortiz).
"Rebecca is one of my besties, and I was like, you guys need to write more scenes for us," Ortiz laughs. "Marisol's not super uptight this year, and Evelyn plays a part in that. We end up being roommates, so you can imagine Marisol and Evelyn as roommates, and take it from there. I'm the one person she can be herself in front of. There's a lot of hilarity, but underneath it, there's a core of a real friendship."
In addition to that friendship, Marisol will find herself in a new relationship with a Hollywood exec, Peter (James Denton). "She's a real smart cookie," Ortiz says. "She's unlucky in love, but she always lands on her feet. especially when it comes to taking care of her business."
Zoila (Judy Reyes) and Genevieve (Susan Lucci) have a rift.
In the aftermath of Genevieve being forced to choose to save either Zoila or Zoila's unborn child, the women are estranged. "It separates them for a good chunk of the season, and it takes Zoila to a different place, which I think is important," Reyes notes. "And she goes on a new adventure."
"Well, she's fairly self-centered; she's carrying on," Lucci laughs. But she does showcase a softer side when she's reunited with Zoila. "I love that about her. She has a lot of heart, and she's vulnerable, and she has no street smarts whatsoever. And she has affection for Zoila."
In Zoila's absence, she has a new maid, Rosie (Dania Ramirez), and Lucci says, "It's not the happiest of situations."
Will Mr. Spence (Grant Show) get his memories back?
With Mr. Spence's amnesia still in place, he's back with his ex-wife, Peri (Mariana Klaveno)—much to the heartbreak of Rosie.
"There's a lot at stake for Rosie this season," Ramirez says. "The mystery this season has a direct impact in Rosie's life. She's trying to get Mr. Spence back, but also trying to figure out this murder in Beverly Hills. It's going to be fun to see my character, who is completely oblivious, go through and navigate this crime. I get to be Detective Rosie, as I call her."
In addition to Rosie's stint working with Genevieve, she also gets a new boss, Mrs. Shannon—played by Katherine LaNasa, Show's real-life wife. "It was a great surprise," Ramirez says. "They called me up and they're like, 'We're hiring Grant Show's wife to play your boss.' And [on the show] all I do is dream of Mr. Spence and make out with Mr. Spence!"
Carmen (Roselyn Sanchez) has an unexpected family reunion.
Carmen is shocked when a young woman shows up, claiming to be her cousin. "She comes to LA to be a superstar," Sol Rodriguez (Daniela) says. "I don't think either of us is ready for what's coming."
The relationship is a complicated one for Carmen; a storyline executive producer Marc Cherry set out to give Sanchez. "When you have a character like Carmen who is so sexy and fun, you start off doing the sexy and fun storylines," he says. "But then at some point you go, what can we go back to her past and deepen the character and allow the actress to show more stuff. We felt like we reached that point with Roselynn, with let's show them a different side of who you are. And Roselyn is a terrific actress, and everyone sees her as the sexy bombshell, but she's so much more than that."
Zoila's new man has mama drama.
Chuck's Ryan McPartlin joins the Devious Maids world in Season 4 as Kyle, a man who catches Zoila's eye. But, naturally, things aren't smooth for the duo. "There's lots of little lies that go on between them," McPartlin says. "It's so fun, because it's so light-hearted in the beginning, and it becomes heavier over time. The white lies become bigger, and they unravel throughout the whole season."
One of the obstacles for the couple? Kevin's "quite attached to his mother," Reyes teases. "It becomes challenging to take. It becomes a strange love triangle."
And the mother-son bond will be deep…and weird. "It's interesting: when you start talking about what you're allowed to do on TV now, you're allowed to go places now that we weren't even allowed to go to when I started Desperate [Housewives]," Cherry says. "Because of some of the crazy stuff on cable, they want more and more from you. We came up with this relationship that is a little bit of homage to Laurence Harvey and Angela Lansbury in The Manchurian Candidate. We thought let's put in some dark colors here and let's see how it plays. We had some fun, it's a little dangerous for the writers. But we like to try new things."
There's a Desperate Housewives reunion—and a killer joke.
With Denton joining the Devious Maids family in Season 4 and executive producer Eva Longoria appearing (as herself) in the premiere, Cherry was able to pay homage to his previous show in a new way. "One of my writers came up with the idea of starting the show with a murder where you think it's the show, but it's a TV show within a TV show kind of thing," he says. "And the idea was Curtis Kheel's; he pitched it, and we started thinking, we can get Eva Longoria to do this. I've been waiting to have Eva do something on this show. And I knew she was swamped, but I knew we could shoot this out in one or two days."
While they were breaking the episode, Cherry pitched a joke about the cast of the ABC dramedy, "and the writers all fell down laughing," he recalls. "And then my thought was, 'I wonder if Eva will say this?' And then she was a good sport about it."
"The truth of the matter is all of the Desperate Housewives, they'll get a big kick out of it," he continues. "We got such press on that show; people were writing that there were problems four seconds into the show when there weren't even problems. I thought enough time has gone by; I can have fun with the myth of the Desperate Housewives experience."
Devious Maids, Season premiere, Monday, June 6, 9/8c, Lifetime.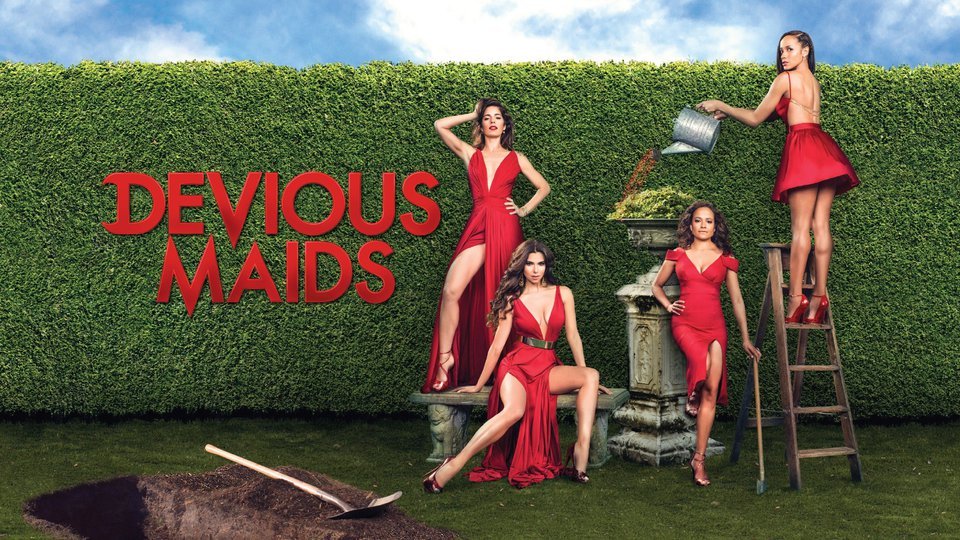 Powered by