'Wynonna Earp's in A Whole World Of Trouble (VIDEO)
Well, here's a surprise: Waverly might be channeling her inner Wynonna—and based on the exclusive clip below, it could not come at a worse time for her big sis. Especially since Wynonna's dealing with one very big problem: a missing Agent Dolls (Shamier Anderson)!
RELATED: Wynonna Earp Postmortem: EP Talks Waverly's Place and Doc's Motivation
Friday's Wynonna Earp sees the titular chosen one (played by Melanie Scrofano) go after the last of "the Seven" revenants who killed her father, and possibly the most deadly one yet. Elsewhere in the episode, the Stone Witch starts taking drastic measures to get back the skull of her dead son.
Wynonna Earp, Fridays, 10/9c, Syfy.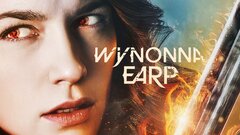 Powered by