'Wynonna Earp' Creator Previews New Syfy Series — Plus an Exclusive Clip (VIDEO)
With great power comes great responsibility—but what if you don't want either?
Well, that's what Wynonna Earp will be hoping to figure out when Syfy's newest series premieres Friday night.
The Western-themed series, which creator and showrunner Emily Andras describes as "Buffy meets Justified meets Frozen, with a bit of Robert Rodriguez" follows the life of Wynonna, the great, great granddaughter of Wyatt Earp and the latest heir to the famous lawman's legacy. But while this title grants her ownership of his iconic gun—a Colt .45 pistol nicknamed "The Peacemaker"—as well as some supernatural abilities, it also makes her target for all Wyatt's old outlaw enemies, who've been brought to life as demons, AKA "Revenants."
"[Wynonna's] kind of following in Wyatt's footsteps as a lawman," explains Andras. "But instead of hunting actual human fugitives, she hunts the paranormal."
Unfortunately for her hometown of Purgatory, the titular heroine doesn't actually want the mantle she's inherited, instead viewing her position as a curse after seeing the toll it's taken on the family members who've come before her.
"She's furious about it. She didn't want it," says Andras about Wynonna's relationship to her inherited legacy. "She doesn't want to fight these thing's that have hurt her family and done terrible things to her. The irony is that over time the fact that she doesn't care and takes no prisoners is what's going to help her succeed."
Wynonna's reluctance to be become the hero is one of the things Andras is interested in exploring as the season goes on—especially in contrast with her younger sister Waverly (played by Dominique Provost-Chalkley) who has actually studied the Earp legacy.
"Waverly takes this really seriously [while] Wynonna, who is a mess, just shows up and gets to inherit the family business," says Andras of the dynamic between the two sisters. "Though the two sisters really love each other, they both want what the other has. Wynonna is jealous of Waverly because everybody loves [her] and Waverly is like, 'I should have been the superhero.'"
But Andras says that while Wynonna is hesitant to overstay her less than warm welcome in town—which you can see in the exclusive clip below—she'll soon find that she might have to make Purgatory more of a permanent home.
Lucky for Wynonna, she'll get some help in figuring out her next steps as the official Earp heir in the form of Agent Xavier Dolls (Shamier Anderson). An agent for the Black Badge Division of the U.S. Marshalls, it's Doll's job to investigate the paranormal.
"He is almost like Wyatt Earp. He is incorruptible," says Andras of the U.S. Marshall. "He's very by the book [and] very dry and very ethical. He's unstoppable until he meets this girl Wynonna Earp, who's not like anyone he's ever met. They need each other if they're going to defeat all these demons." However, Andras also points out that Dolls may not be what he seems. "Everybody on this show has secrets. So as much as Dolls seems to be one thing, stay tuned."
This is also the case with another one of the series' big characters, none other than Doc Holliday (played by Tim Rozon) who happens to also have been Wyatt Earp's best friend, or "the original bromance" as Andras describes it. "You would assume he would be an ally of the Earps, but that doesn't really seem to be the case. He doesn't naturally align himself with Wynonna and Waverly. We don't really know what his motivations are, but we're certainly going to find out what drives him. The other thing to figure out is [if[ this is really Doc Holliday. How is he around 133 years after his supposed death?"
In fact, Andras says this is one of the series—and certainly the season's—big questions. "A huge part of our first season is figuring out why this is happening [and] what this means," says Andras of the series' over-arching mystery. "Why is the Earp family cursed? Why are all the outlaws Wyatt killed cursed to keep coming back as demons again and again. As we get deeper in the first season's mythology all those questions will be turned over and over again."
Wynonna Earp premieres Friday, April 1st at 10/9c on Syfy.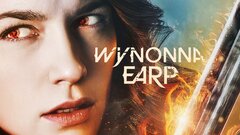 Powered by