Roush Review: 'The Good Wife' Finale: Will They Or Won't They?
Well, at least one of our Good Wife fan fantasies came true in Sunday's emotionally suspenseful yet ultimately ambiguous series finale: Alicia Florrick was reunited with the love of her life, the late Will Gardner (the long-lamented Josh Charles).
True, these were fantasy sequences as a conflicted Alicia (Julianna Margulies, in top form) conjured up the spirit of her slain lover to act as sounding board, moral conscience ("Hey, ethics change") and audience surrogate, echoing our own desires as he urged her to "Go to him"—him being Jason (Jeffrey Dean Morgan), the sexy investigator Alicia has been carrying on with all season, to everyone's delight. "You're done with Peter—like a fever, it's over," Will declared. Again, true. We were over Peter (Chris Noth) long ago.
More Roush Reviews: See What Matt Thinks About Other Shows
And when Alicia argued, being the lawyer that she is, "Jason's not you," Fantasy Will had to concede, "Very few people are me." (No argument here.) And with one last embrace, as Alicia declares, "I'll love you forever," Will gets the last word: "I'm OK with that." (Ah, Will.)
Back to reality. Which comes like a slap to the face.
Said slap delivered to a horrified and chastened Alicia by her mentor-partner-colleague Diane Lockhart (the fierce Christine Baranski), who felt grievously betrayed when her husband (Gary Cole as ballistics expert Kurt McVeigh) was thrown under the bus during the contentious courtroom hearings deciding Peter's fate. (As the show's creators, Robert and Michelle King, explained in an online interview on cbs.com, this slap was intended to bookend the slap Alicia gave Peter in the series pilot, after she stood by his side during his first public scandal.)
"The show has never gone in for easy answers," Robert King said in the CBS interview, addressing the show's open ending. Some fans likely would not have been satisfied with anything short of Alicia hopping into Jason's getaway vehicle and driving off into a blissfully debauched fairy-tale ending. But that's not The Good Wife. Alicia (thanks to the intervention of Fantasy Will) had obviously opted for Jason over Peter—her whispered "Wait for me" into Jason's ear, while deliberations were still ongoing, couldn't have been more persuasive—but she was chasing a phantom down that hallway before Diane slapped her back to earth.
RELATED: The Good Wife Series Finale: Alicia's Evolution, Will's Death, and All Those Relationships
Alicia's path to independence, and let's hope happiness, has always involved tough moral and ethical choices. Throughout the twisty finale, which spent much of its time in the courtroom (including a wry cameo by super-lawyer David Boies), we are witness to the tough, ruthless, anything-goes Alicia: coyly negotiating with the AUSA (Matthew Morrison) and manipulating former friends like her ex-partner, Cary Agos (Matt Czuchry). The stakes couldn't have been higher. Secure Peter's freedom and she could finally let him go and move on. That's the happy ending the show delivered, albeit not without consequences. The rest can be left to our imagination.
Over seven excellent seasons, Alicia has turned into a fascinatingly flawed hero while The Good Wife evolved into the rare network series that could be compared favorably to the best of cable (and now streaming). And while we may be left yearning for Alicia to walk through her front door to find Jason waiting there with two goblets of red wine, the bigger quandary now is: How will CBS fill this void on our Sunday nights?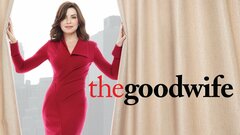 Powered by